By P Abigail Sadhana Rao
Broad swirling brush strokes, and the usage of intense and contrasting colors that pop epitomises the style of Expressionism. As the name suggests, it emphasises emotions rather than reality. As an art movement, it is elusive to define as it spanned numerous countries, diverse mediums, and periods. Expressionism closely explores the human psyche, by either exaggerating or distorting the subject and strives to achieve a subjective depiction of the artist's emotions.
August Macke, an influential German Expressionist, so rightly pointed out that "incomprehensible ideas express themselves in incomprehensible forms" in Expressionist paintings and that it bridges "the incomprehensible and the comprehensible." As a matter of fact, Expressionism does exactly that, it helps an artist express the incomprehensible in an incomprehensible form whereby it portals the viewer into the world of the artist conveying the essence of the artwork. Expressionist paintings hold an unleashing power to open dialogue between the artist and the viewer.
During the 1950s and 1960s, Modern Art as a movement began to peak in India, it was then that many Indian artists like M.F. Husain, F.N. Souza, and S.H. Raza, were seen to move away from traditional and folk art practices and explore Western styles of Expressionism, Impressionism, Cubism, Surrealism, etc. Contemporary Indian artists have broadened their scopes by imbibing expressionist style in their artwork to express frustration, exhilaration, solitude, yearning, alienation, and the like, in response to the sheer ugliness they discern in life. Here are ten contemporary artists, whose artwork exhibit expressionism.
1. Tryst With Nature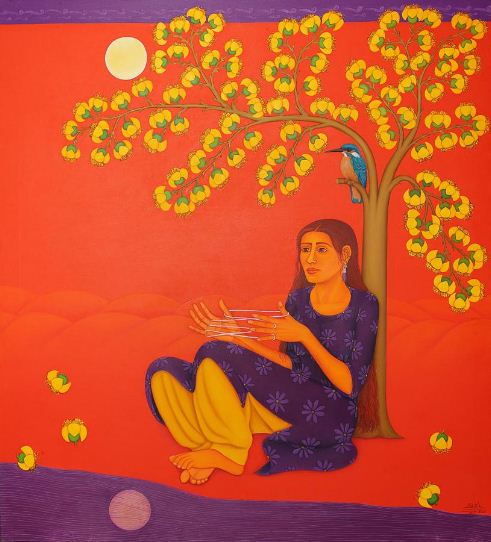 Sabia Khan, an acclaimed Delhi-based artist, features a woman enjoying and claiming her right to leisure. By using contrasting bright colors, and blending bold and directional marks, she creates myriad-hued textures embodying expressionism in her painting. Sabia Khan reflects her love for nature and expression of freedom by depicting present-day conundrums while subverting the performance of gender roles in her works.
2. Lost In Chaos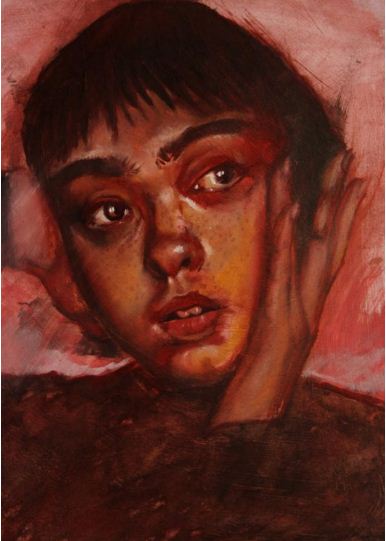 Portraits that encompass the style of expressionism tend to have an evocative grip on the viewer. They aren't mere visual representations rather they delve much deeper revealing an emotion or feeling. At times, it may be obvious, but more often than not, they are deftly implied through expressions, poses, and the use of colors. Much like Akash Srivastava's portrait here, thickly painted, and inflated with rough brushstrokes that convey an exaggerated feeling of being lost in the chaos, leaving the viewer to interpret it further.
3. Jellikettu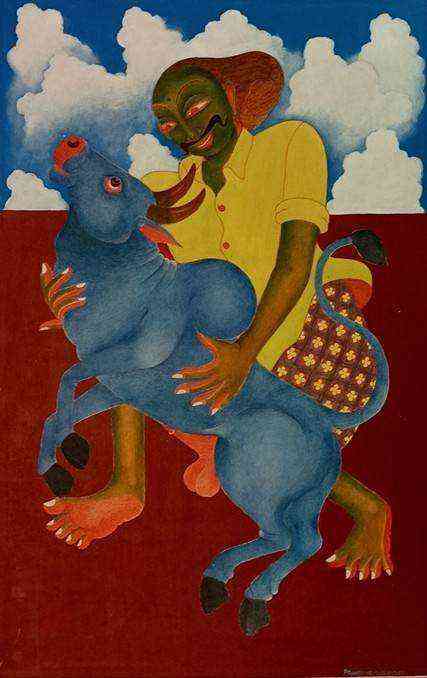 Jellikettu by Pramod Neelakadan celebrates Dravidian pride and culture. It is a sacred representation of the relationship shared by man and the bull. The act of taking part in Jallikattu is seen to be embracing and re-enacting a ritual that belongs to the Harappan-Vedic times. Pramod, through his artwork, seeks to touch upon the conscience of the viewer. He is seen to use bright, intense colours to bring about pictorial coherence in his paintings.
4. Untitled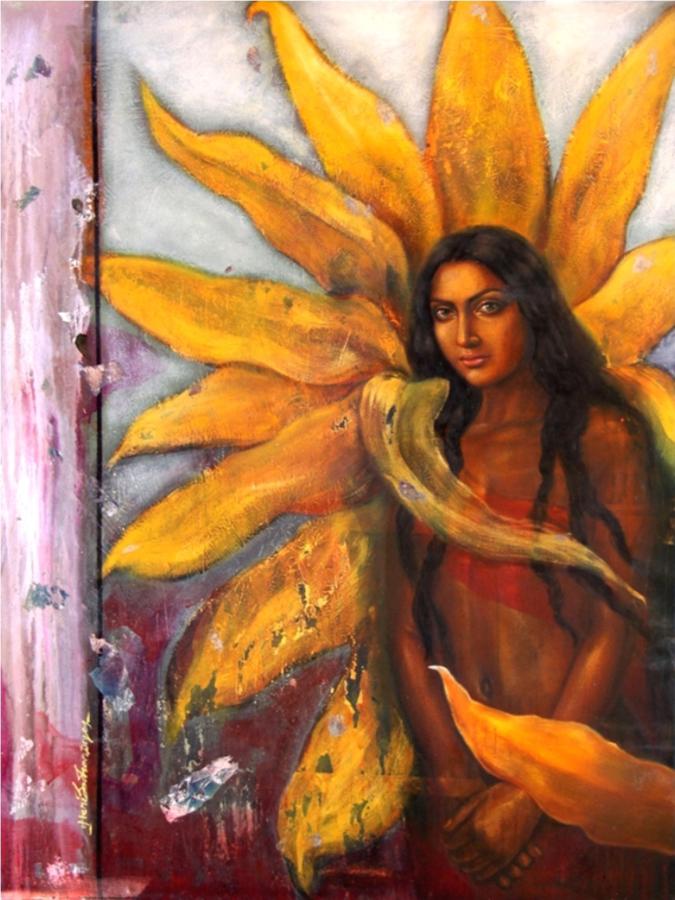 Harisadhan Dey has a unique way of expressing his inner self through his artwork, where human form, expression, and emotion take center stage. The painting is infused with contrasting shades of yellow, brown, and pastel pink with a tint of red painted in patches across the canvas. Harisadhan depicts the idea of self-love as the woman in the painting exudes strength and grace as blooms from within the flower. His artwork ranging from innocence to seductive to divine, unlocks hidden thoughts, feelings, and emotions that are buried deep within.
5. Fisherman 2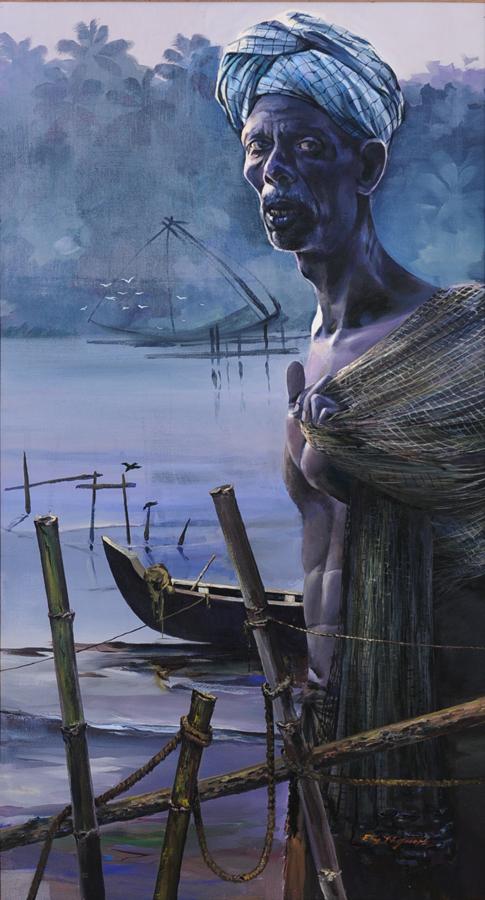 Brokenness and loss are recurring motifs explored in their numerous paintings that employed the style of Expressionism. This painting by Eby N. Joseph captures the ordinary life of a fisherman, looking gaunt and dishevelled suggesting emotional, social, and psychological collapse. Expression of the inner, psychological scars that life impresses upon one can be seen as a recurring motif in Expressionist paintings.
6. Faceted Calm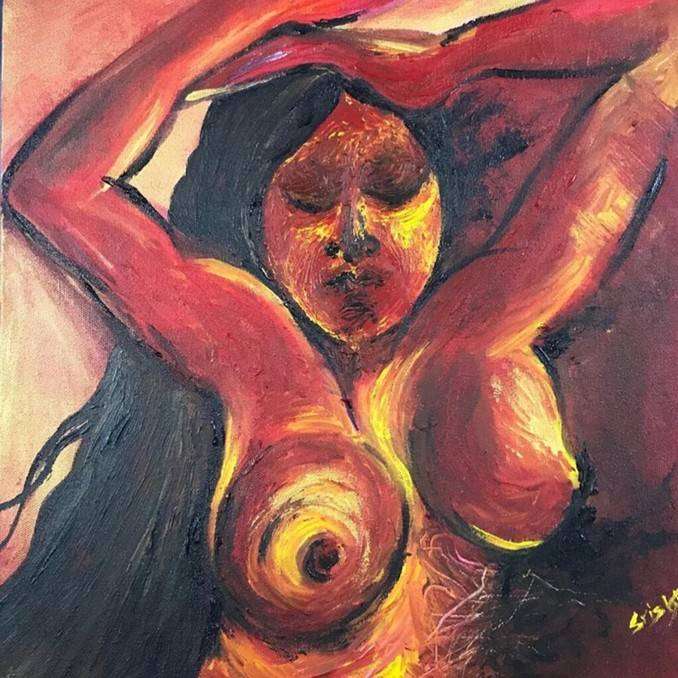 Expressionism embodies the art of articulating truth, the core of one's emotional essence. Srishti Bansal, through this painting, induces a feeling of calmness in the wake of dark, eerie, and chaotic times. Srishti composes this painting with bold palette knife strokes complimenting the delicate brushstrokes in black, brown, and mid-tones of yellow.
7. Expression Series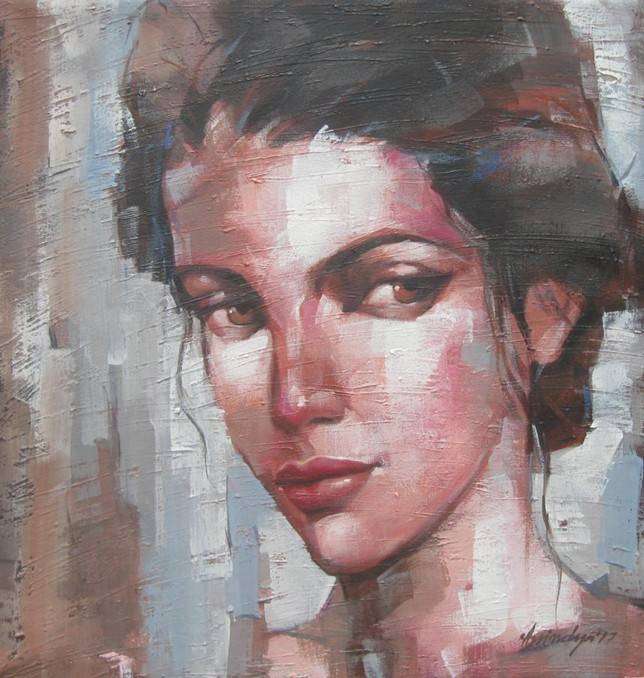 Kolkata-based artist Anindya Mukherjee through portraits of people in his Expression Series has imbued a unique style that blends elements of expressionism with hints of abstraction. Soft edges of layered shapes and blended flesh, with well-defined brushstrokes, bring to focus the inner feelings of the woman. He believes that art can be found in everything and brings all that inspires him onto his canvases.
8. Untitled – 120
Expressionism embraces nudity as a means to challenge restrictive social and moral codes that society abides by. Santoshkumar R. Patil, through this painting, attempts to throw light on the concept of sexual liberation, by portraying a woman subtly smiling beside a horse. Bold cross-hatching brush strokes of yellow, pastel pink, and shades of greyish black achieve a textural harmony. This painting contrasts the representation of power and desire, challenging patriarchal norms and the expression of sexuality. It elicits a convoluted effect on the on-looker.
9. Rickshaw Wola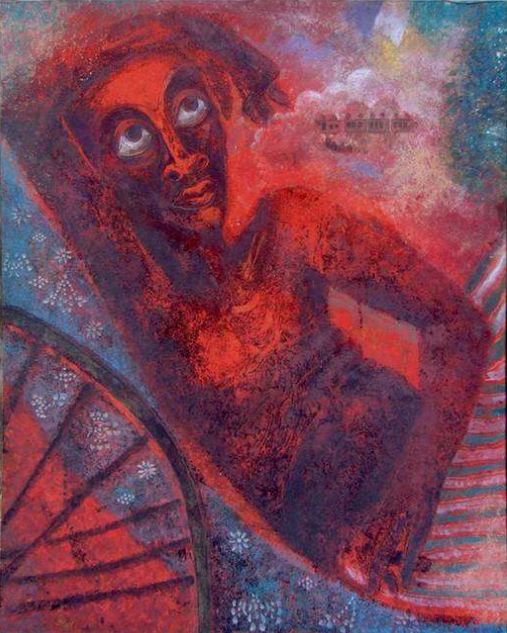 Jarring colours of reds and blues, the subject's enlarged eyes, and the imprecise swirling brushstrokes are indicative of the expressionist style. Sudip Chandra discovers himself through his pictures. In this painting, the mundane is suffused with deep emotion, the rickshaw wala meandering about in his thoughts and the land of dreams and lost hope. The exaggerated look on the subject's distorted face further exemplifies the features of Expressionism in this artwork.
10. Summer Child
Painted in oils, Vandana Mehta brings back those enchanted memories of summer, spending long hours on the beach, basking under the sun, lost in thought. The viewer's past-present disconcertment fades away, whilst being present in the moment, in the feeling of now. This highly pigmented painting infused with many layers of glaze leaves the beholder feeling nostalgia for summer past and evoking a feeling of serendipity.