By P Abigail Sadhana Rao
Door photography, also popularly known as "doortrait" by our fellow Instagrammers, is a genre of fine art photography that has been trending for a while now. Doors have become objects of deep fascination; photographers have used them to represent and transform reality to reflect their artistic vision. There is something magical about these inanimate blocks, standing still, listening and stealthy documenting life around them. Much like literal doors that open into another room, doortraits transport one to otherworldly dimensions, not bound by space or time. They can even evoke an array of emotions and feelings that make one wonder and wander off into a state of reflection.
Doors represent different things to different people, to some they are seen as obstacles, and to others as opportunities. They carry hidden secrets, much like us humans. Such mystery and duality surround them. Much is written into these doors and they all have, not one but many stories to tell. Door Photography captures not just the art of story-telling but also encapsulates the essence of culture. Adorn your walls with doortraits and they will never look the same. Here are some door portraits from our collection on Mojarto.
1. Ancient Doors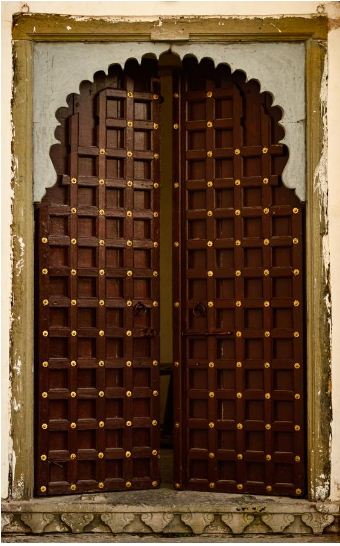 Door photography has a way of reminding us of our long-forgotten traditions. Doors are like hidden passages that take us to bygone eras. Much of our culture is etched onto them. Ancient Doors by Kaushik Modi transports us to the fortified city of Rajasthan, Jaisalmer. This brown wooden doorway, ornated by iron accents framed by an elaborately carved arch, presents a touch of royalty and the essence of Rajasthani culture. Door photography that captures tradition will present the viewer with a means to escape the travails of mundanity and this photograph will be a perfect addition to your living space.
2. Door Of Envy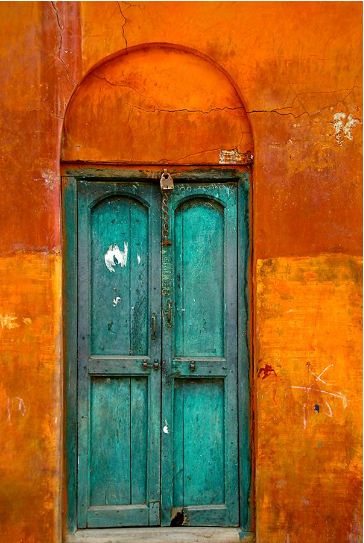 Door of Envy by Sanjay Nanda will turn heads while it adds vibrance to your wall. These worn-out orange-coloured walls blend beautifully with the tints of teal and lavender blue painted on the door. Cracks and scraped demarcations on both the door and walls are waiting to tell tales that have been weaved into them. This doortrait captures a stunning level of detail and will indeed inspire all who lay their eyes on it. Shades of orange and blue-greens are known to foster positivity, and hanging it up will brighten your walls. Door photography will liven not only your space but it will lighten your moods as well.
3. The Blue Doorway Bicycle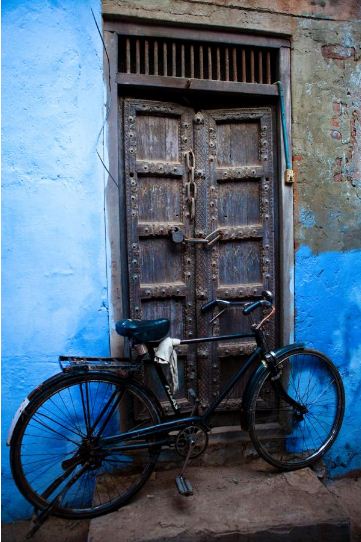 Gautam Vir Prashad's The Blue Doorway Bicycle reminds us of breezy summer evenings, waiting to take us on an adventure of its own. Bright hues of blue vividly offset the rust-ridden metal ornates and chained lock. This frame offers a dual perspective on living life, where shut doors represent a block or a feeling of being shut out or stuck, while the bicycle represents a sense of hope, to change with time, never to be shackled by that which holds us back. In the words of C.S. Lewis, "There are far better things ahead than any we leave behind." Door photography will command attention and set a tone for your wall. A thought-provoking image is like an idea that makes you stop, look and think, door photography does exactly that for its beholder.
4. Rajasthani Door Photography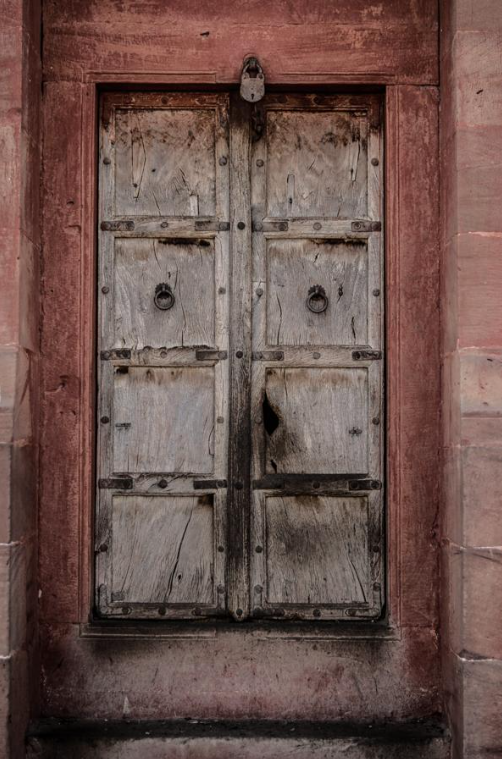 Uday Talpade's Rajasthani Door, encased in metal, delineates perfect symmetry. Another door, another crossing, but representing a state of decay. This door has seen all seasons and phases of life, it stands as a testament that nothing remains intact and the same forever. It presents a stark reminder that death devours all. Nonetheless, doors, like stages of life, are nothing but thresholds that must be passed at some point in time. Death too is just another door that one must cross into the afterlife. Door Photography is an art that induces a sense of intrigue by offering us a provocative glimpse of life, history and culture.
5. Illumine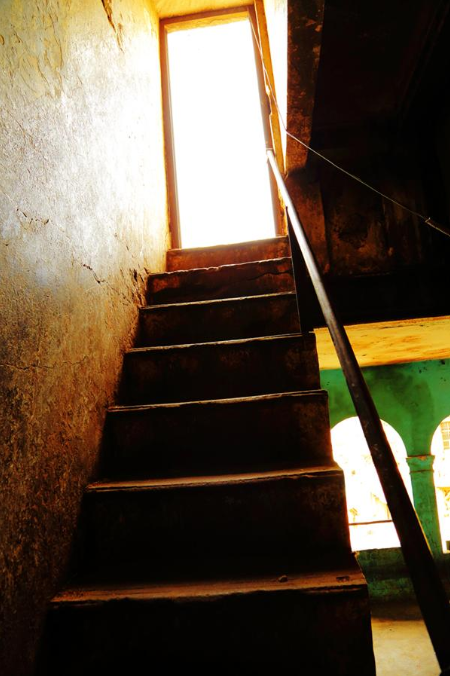 Illumine by Krishnendu Chatterjee is a photograph that makes us all want to simply hope. The stairs, green dome-shaped structures, and hues of yellow add on to the doorway that illuminates our perspective on how life is a journey full of surprises. Tomorrow is not promised, nor do we know what lies behind each new door. But that's the beauty of it, each door is laced with the fear of the unknown waiting to be walked into, to help us transition to the next "best" thing. As the name suggests to brighten up, this doortrait will embellish your space, allowing the viewer to find a sense of reprieve from the hullabaloos of life. Explore the art of door photography through the lens of our artists on Mojarto, they will awaken a sense of awe and transport you to their worlds.