In the era of e-mails and messengers, love letters still hold their immemorial charm. This love letter is for an enchantress who beholds everyone in her charm and allure. Kolkata, also known as the "city of joy," is a mystical and magical experience that enthrals one with its vibrancy. The city encapsulates everyone in its rich history, heritage and merges the soul into harmonious multiculturalism. The birthplace of many artists is a unique blend of tradition and modernity. It spreads its constant festive spirit to anyone associated with it. The colour, smell, and fervour bring in a whole lot of enthusiasm. 
The city enchants its dwellers with a myriad of emotions, sentiments and feelings. There is peace in the city's chaos. The city bustles with activity from dawn to dusk, but with a unique charm. It does the magic of rejuvenation just with its thoughts. The "city of joy" is a respite from the busy city life. It fascinates one with its pace and elegance.
Get mesmerised by the tapestry of life in Kolkata. The rich culture, vibrant colours and colonial past narrate a new story every time, a story that no other city offers. Every aspect of the city is something to be endeared and cherished. The city of joy is a visual, gustatory, and olfactory treat for one's senses.
The idea of Kolkata brings out different emotions in one's mind. The bright colours, festivities, fragrance, rain and trams. Get enchanted by these paintings of Kolkata by different artists and experience the real fervour of the city. Decorate your walls with these artworks and let the nostalgia fill the room.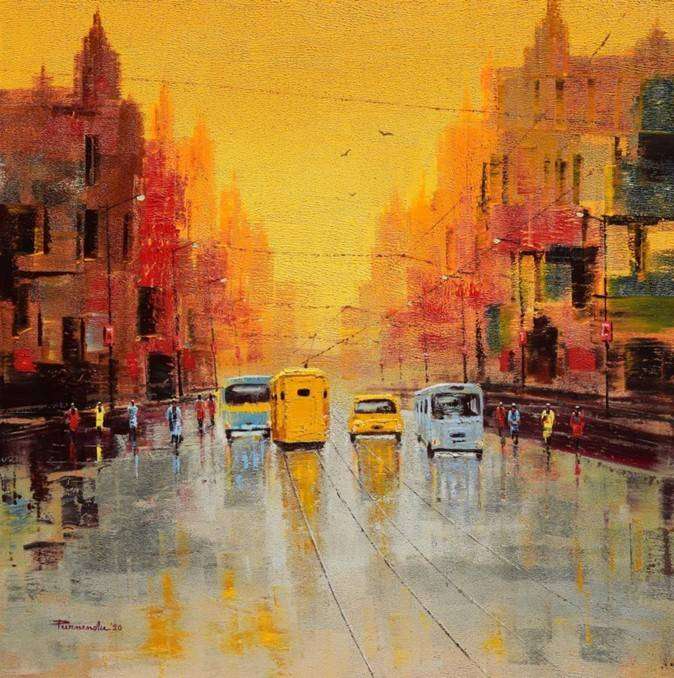 This artwork by Purnendu Mandal depicts vibrant red colours and early morning visual effects in the environment with few cars and vehicles plying on the road. It also shows a limited hustle and bustle of activities that begins early in the day and the effects of fog and mist with few reflections. It shows the onset of daily activities in the wee hours of the day in the city of Joy, with few birds flying in the sky etc.