India is a country built on the diverse influences of culture, tradition and history. This has exalted the charm and glory of the country. With diverse influences and history, their uniqueness is what adds to their appeal and identity. One such city is Haridwar which is also known as the 'gateway to the gods'. It is the very homeland of the spirit realm, the abode of the silent frosty sentinels and the emblematic Dev Bhoomi.
Here are some works inspired by the beauty of the holy city that quenches one's insatiate cravings for divinity. We bet you that these artworks are the perfect choice to decorate your walls with both culture and divinity. Get your guests talking and mesmerised with these artworks on Haridwar and its breathtaking beauty.
Haridwar, situated on the upper reach of the Ganges and the foothills of the Himalayas is a city with the most scenic beauty. Scintillating saffron and white add to the enchantment of the city. The city of devout is a perfect subject with its hustle of pilgrims, pundits & monks on the river bank. Th e artist in this paper collage has woven in detail a vivid illustration of the temple town. The temples are the most enchanting and thrilling aspect of the city. This artwork spreads the sanctity it beholds within it.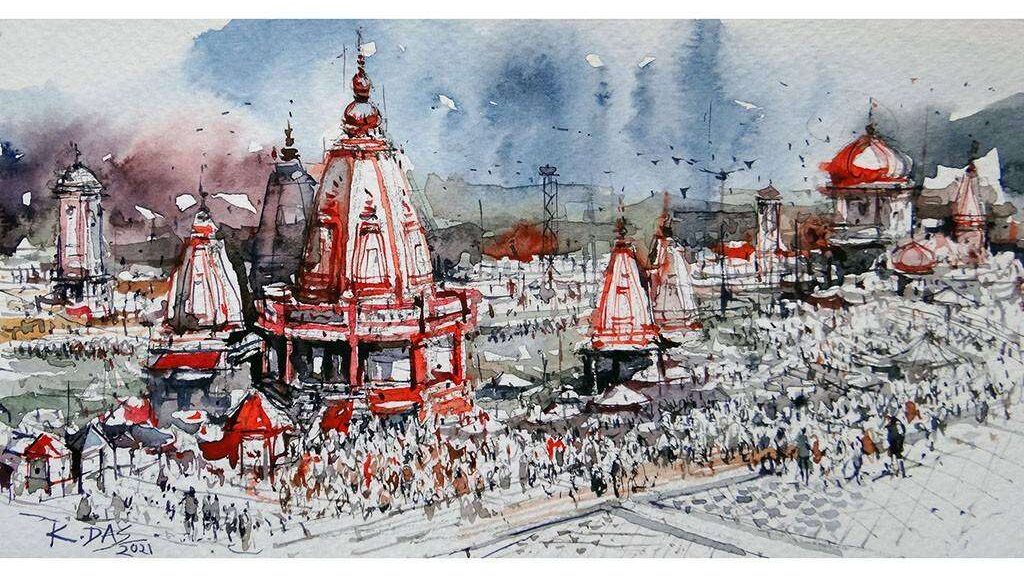 The experience of Haridwar is exalted after dusk. The mellifluous sound of Ganga twined with wick lamps floating with wishes of people praying in the evening breeze creates a solacing experience. Artist Kashinath Das portrays the splendorous beauty of the day in the holy city. The soothing ambience has the power to rejuvenate the mind and body.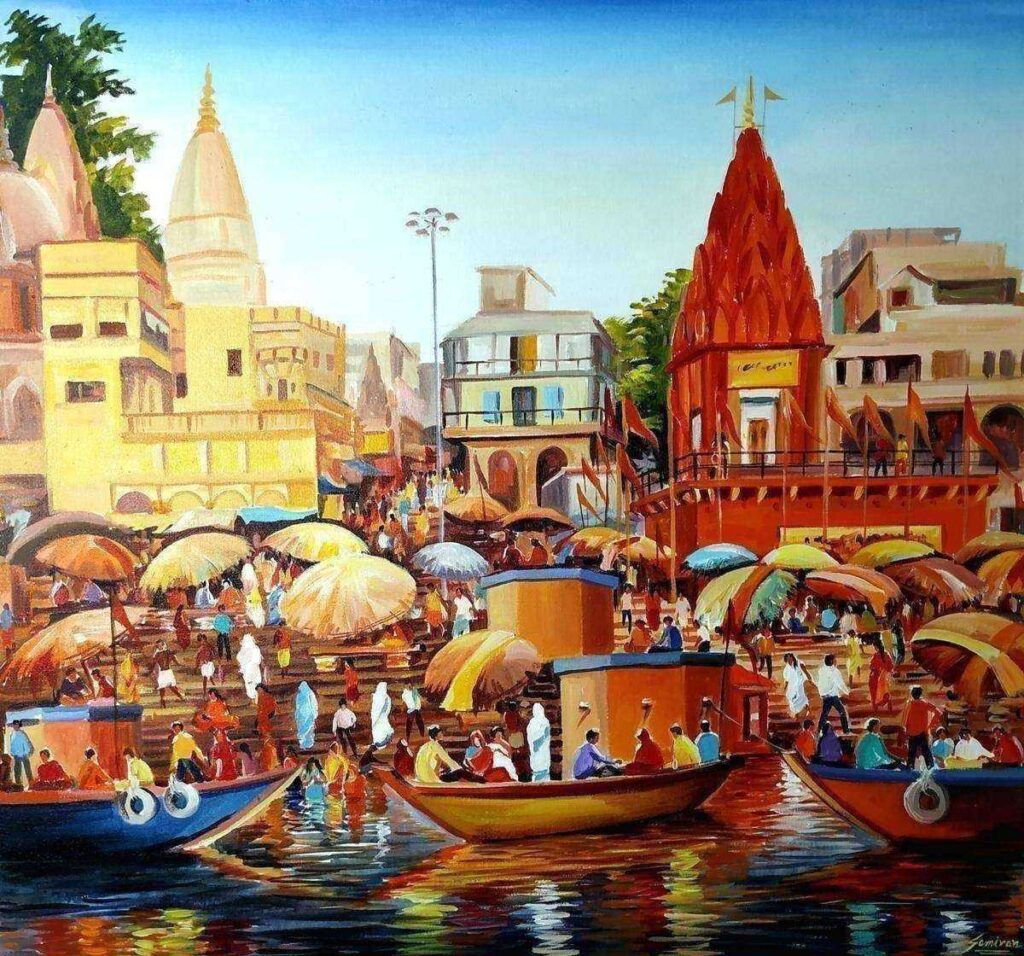 Haridwar is one of the four places where the drops of Amrita, the elixir of immortality, accidentally split over from the pitcher or Kumbha, in which it was being carried away by Garuda, the celestial bird and the vehicle of Lord Vishnu. It is, therefore, one of the four venues where the Kumbh Mela 'said to the largest congregation of humanity anywhere in the world' is held once every 12 years.
This makes Haridwar a city of yogis. Yogis and sadhus embellish the fame of the city. Their early morning dips in the Ganga and chanting of hymns takes us closer to god. Artist Samiran Sarkar's image of yogis spread their divine calmness in the setting.