by Karishma Balachander
Ganesh Chaturthi also known as Vinayaka Chaturthi is a festival that marks the birth of Lord Ganesha. The history behind this festival dates back to the age of Maratha Ruler Shivaji, wherein he propagated the celebration of the festival to encourage nationalism among people. Later, the festival was revived by the Indian Nationalist leader Bal Gangadar Tilak and today, Ganesh Chaturthi is celebrated among the Hindu communities worldwide and is very popular in Maharashtra and other parts of western India. Mojarto brings you some of the best artworks on Lord Ganesha to embrace this festival of Joy.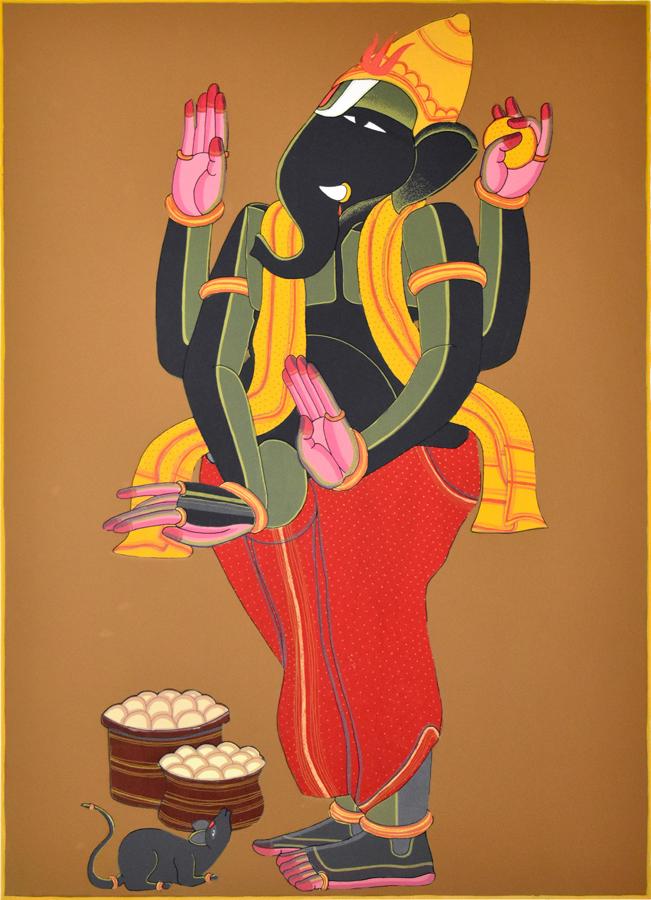 This artwork titled 'Ganesh' by Thota Vaikuntam depicts the image of a black coloured Lord Ganesha along with his favourite modhak and mooshak. The Black Ganapati statues go on to reveal the Lord's strength, superiority, and divinity in the best achievable way. Thota Vaikuntam's artworks have a sense of strength and power that emanates from his controlled lines, colour and form. His paintings are vibrant with rich use of colours like reds, saffrons and oranges.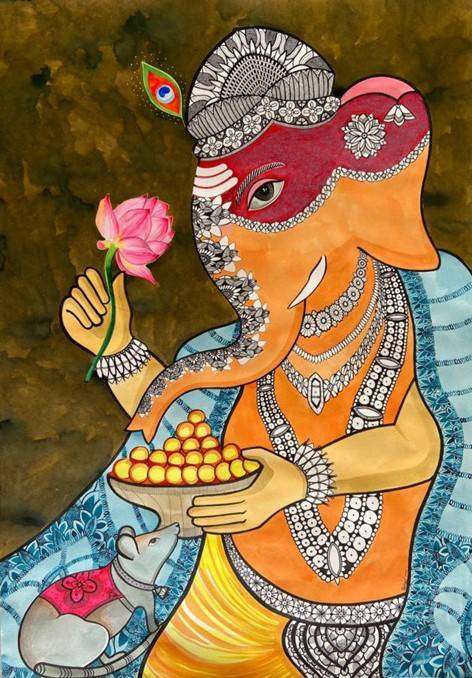 Lord Ganesh the son of Lord Shiva and Devi Parvati is worshipped before starting anything fresh in life. He is the God of wisdom, success and good luck. This artwork by Pallavi Rastogi depicts Lord Ganesh in vivid and vibrant colours which induces calmness and positivity to the viewers.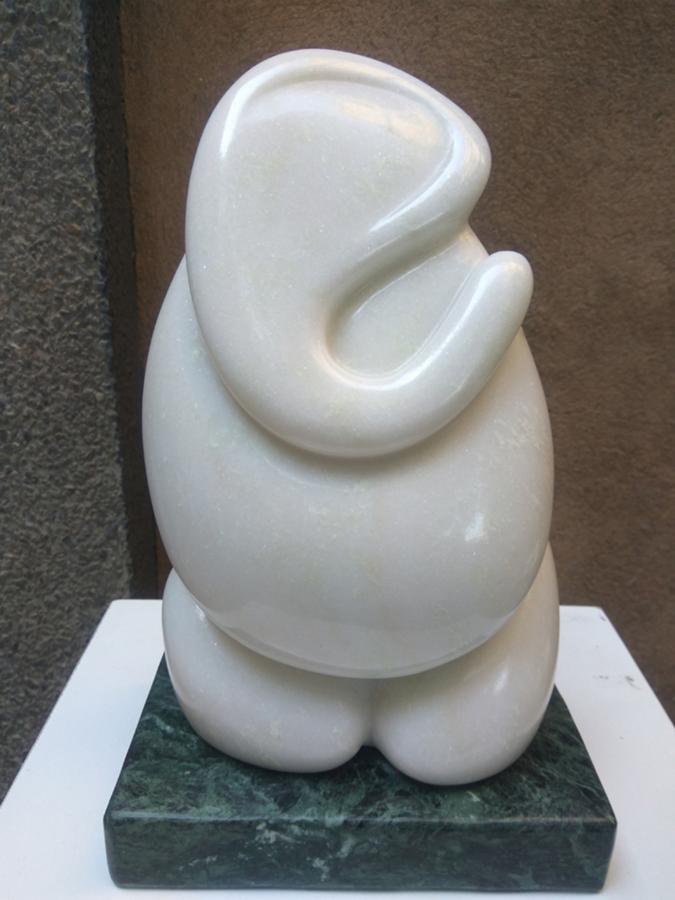 This sculpture titled 'Ganesha' by Amit Kumar Singh is made up of Marble, Brass and Jaisalmer Stone. Lord Ganesha, known as the harbinger of prosperity, is also widely revered as the remover of obstacles. This sculpture is sure to add an ethereal and aesthetic look to your home decor and will spruce up the ambience of your space.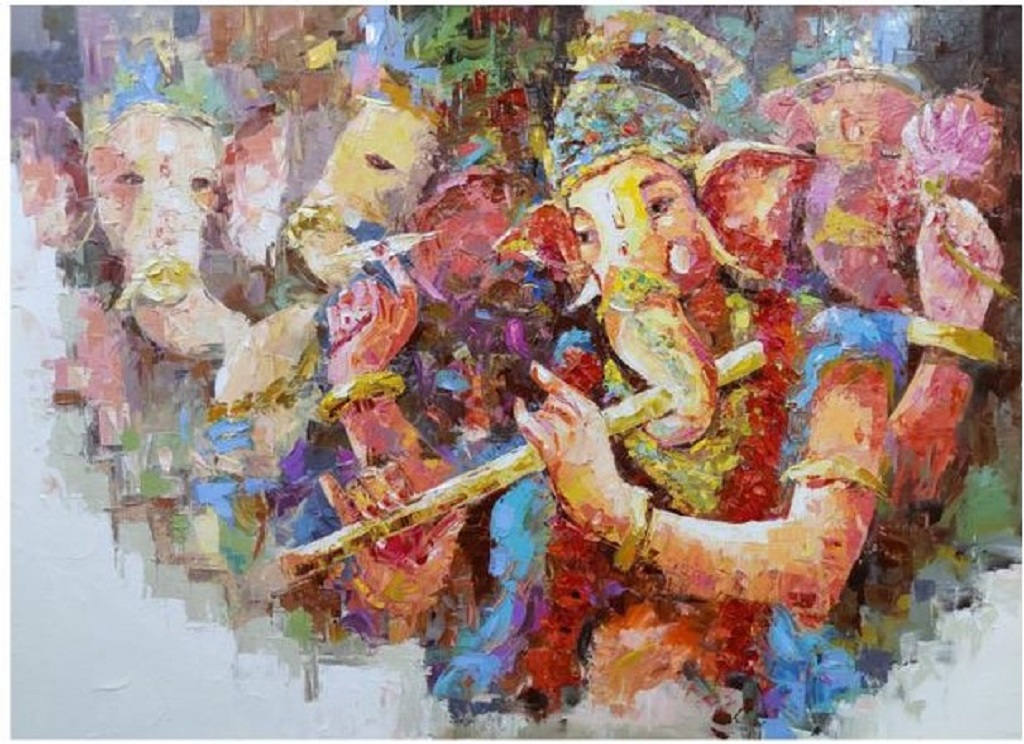 'Ganesha' by Sanjay Chakraborty depicts Lord Ganesha in a contemporary style where the form is almost fragmented and obscure. Executed in his unique style of short palette knife strokes, the artwork is a unique blend of colours that seems very aesthetic and serene.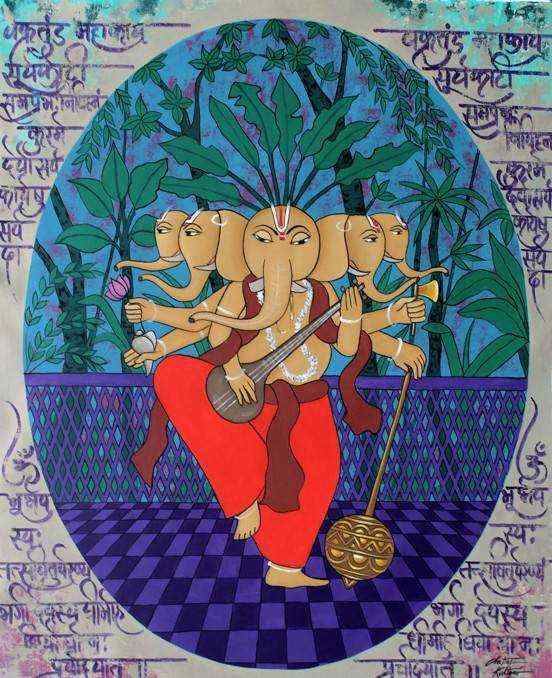 This magnificent work of art titled 'Panchmukhi Ganesha' is created by Chetan Katigar. The five-headed Ganesha shown in this painting is revered as the embodiment of all powers. The Pancha Koshas or five sheaths in the human body's complex anatomy are symbolised by one of Panchmukhi Ganesh's heads. Annamaya, Pranamaya, Manomaya, Vijnanamaya, and Anandamaya are the Pancha Koshas. God has five sides just as there are five senses and five elements which is why he is known as Panchamukhi Ganapati. Visit Mojarto to view more Ganesha-related artworks to celebrate Ganesh Chaturthi.