The survey show titled 'The (in)Visible and the (un)Revealed' is on display at the Emami Art, explores the life and artistic journey of Kartick Chandra Pyne.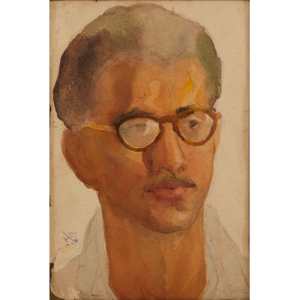 This show hosted by the Emami Art is a one-of-a-kind survey show of late legendary artist Kartick Chandra Pyne. He's one of the most significant modern Indian artists of the post-independence era. He was among the few modernist painters whose work show a distinctive style and thematic approach. He was an artist who moved away from academic training into an intimate and personal approach towards art. His work is characterised by the eclecticism of his style and enigmatic visions. The artist's unique artistic brilliance lies in his ability to create an imaginary, fantastic world in which dream, reality, and personal memories are inseparably interconnected.
This distinctive exhibition proves to be a tribute to Kartick Chandra Pyne and his artistic life. It facilitated viewers, scholars, and art lovers to familiarise themselves with the significance of artist KC Pyne's creative oeuvre. The show also led to the rightful reassessment of the artist's irreplaceable place in the history of modern Indian art.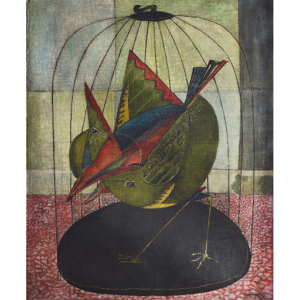 2021 marks the 90th birth anniversary of KC Pyne and it is the best time to retrospect on his remarkable art journey. The show is a real revelation of his vision and ideas. It is evident that he seeks the untutored freedom of the child on canvas. Many of his mature paintings look childlike, but they are thoroughly planned and naive. But it is based on a profound understanding of both indigenous art and global trends of modernism. Displaying the work spanning over sixty-year of his artistic career, the exhibition helps us to understand the complexities of Kartick Payne's eclectic style and his ability to create a unique imaginary and fantastic world. His artworks reveal an enigmatic phenomenon combining the visible and subliminal, mimetic and metaphorical in a rich affective pictorial language of eroticism. His masterpieces like Bird in the cage, Sankirtan, The cart puller, Old and Young among many others were displayed. 
In its entirety, this exhibition provides a glimpse of KC Pyne's lifelong quest for the perfect painting. "Thousands of thoughts play in my mind but the idea for a perfect picture is to create reality as a complete whole and encompass elements both the conscious and the subconscious" – Kartick Chandra Pyne