By Team Mojarto
We are all busy birds, who are in continuous search of something in life. This search rarely lets us stay in our homes for a longer time. But this doesn't mean that it has diminished the value of homes. A home is always the place where we all go back at the end of the day. It is our haven where we nurture, grow and shine. But sadly most of us spend little time at home, as our works demand the time to be spent outside the homes. The pandemic reinforced the importance of homes. The yearlong lockdown confined us to the four walls. Home proved to be our safe sanctuaries. When this space holds a myriad of significance to itself, isn't it important to decorate that space and make it cosier?
Here are a few artworks and reasons to create that cosy spot in our homes, where we can have the right "us" time. Creating a nurturing and calming environment helps relax and de-stress from the chaos of the outer world.
A positive domestic environment is very important for a creative and healthy lifestyle. The first thing to create a cosy space is to keep it minimal. Minimal decors and accessories make the space calm and cosier. Artist Sanju Jain's artworks are minimalistic and spread an air of cosiness. The choice of blue and grey gives the artwork a pleasing effect and creates a peaceful space.

Bring the walls alive with something that makes you smile, because every moment you spend in that spot should be memorable. Hanging an artwork based on a calming theme can also soothe your mind. Create your special and happy place with serene artworks by Anupam Pal. Add a little pillow to your chairs to feel warm and relaxing.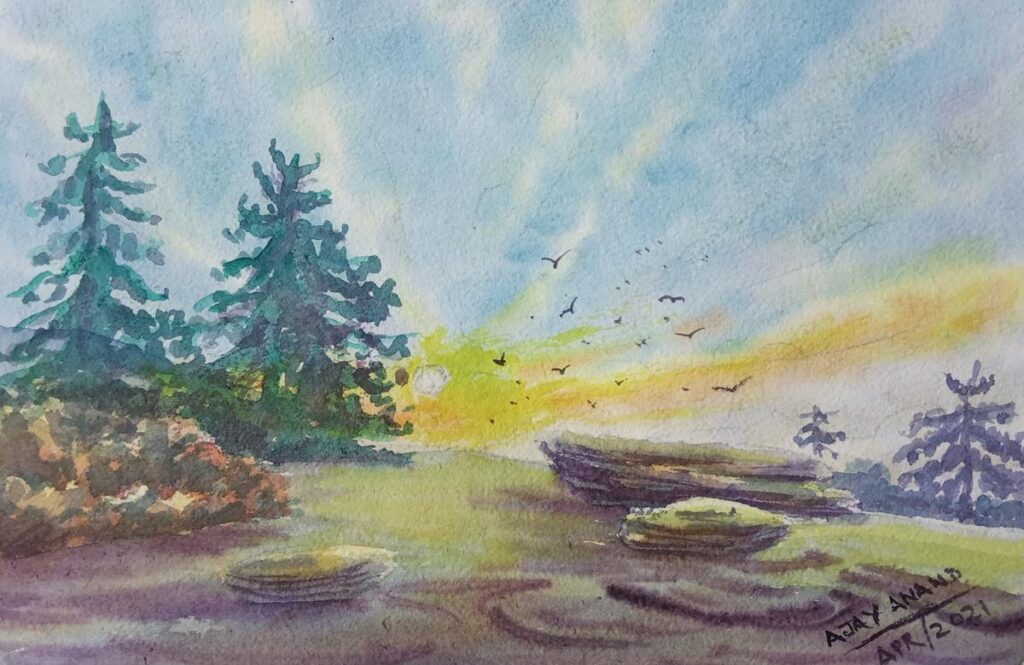 Let the artwork you choose reflect the mood you want it to be in. Artworks both reflect and create the mood of a space. This artwork by Ajay Anand is the best decor accent to transform your mood to your space. The sight of twilight, early birds and the crimson yellow colour spreads its tranquillity. This artwork is the best choice for the cosy space set up near the balconies or sit-outs. Add a few potted plants to get into the feel of being with nature. This can also help in animating such spaces.