'Of fire and earth', the online exhibition organised by Dhi Artspace that is on view till the 30th of May, conjures up the contemporary ceramic art scene in the country. The show features a group of prominent contemporary ceramic artists in the country bringing together the approaches of coeval ceramic art.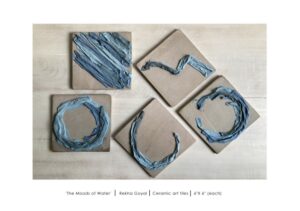 The second wave of the covid-19 pandemic has hit us hard again. But it is our time to stay strong and waddle through this with positivity and hope. In this hard situation, let us stand for each other and vouch for each other's mental well-being and happiness. Dhi Artspace online exhibition 'Of fire and earth' features the ceramic works of 8 artists- Falguni Bhatt, Loganathan. E, Mudita Bhandari, Rahul Kumar, Rekha Goyal, Shirley Bhatnagar, Subhankar Das and Vinod Daroz.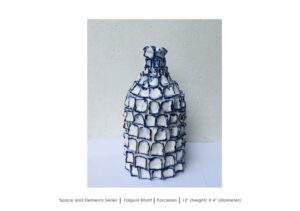 Ceramics and clay have existed for hundreds and thousands of years. They were mostly found as a vase, pot, or other utility items, but rarely as an art. It was in the last seven decades that ceramics- including terracotta, and clay were recognised as visual arts. 'Of fire and earth' brings out the real identity of ceramics as visual arts. The riveting display of the creations displays a band of colour ranging from a melange of rich coloured artwork to more calming earthy tones which are more pleasing and evocative. Ceramics is a very diverse art, where the material can take any form. The art is known for its versatility and plurality.
The object de art in the display shows the works of artists who are shaping the future of ceramics, demystifying the art, and sharing their passion for clay. The exhibition is also a manifestation of the versatility of themes that can be incorporated into ceramics. It shows how artists are increasingly using the medium to convey their message while getting playful with shapes. "Of fire and earth' also explores the immense possibilities of ceramics to address the diverse concerns of our time.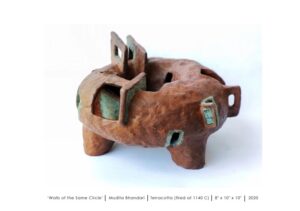 All 8 artists are redefining the ceramics art realm by resulting in new narratives. Falguni Bhatt's relation with clay allows her to be in touch with her inner core. She creates fragments, manifesting a sense of nostalgia and memories. Similarly, Rekha Goyal translates her innermost emotions of despair, vulnerability, and claustrophobia into clay, but with a stark contrast to Falguni Bhatt's design and shape. Can abstract art be applied in ceramics? Artist Rahul Kumar breaks the doubt through his artworks, which are abstract patterns that reminiscence the visual-spatial, panoramic view of earth or magnified image of the body. Rahul Kumar's art with Kintsugi shows the versatility of ceramics, which even celebrates defects by decorating cracks with pure gold. Ceramist Loganathan. E's house structure portrays the dichotomy of peace, which is experienced in the inner world, and the chaos in the outside. Mudita Bhandari finds inspiration in space and dimension by exploring the fluidity of different dimensions and multiplicity of layers within structures. Shirley Bhatnagar's works are infused with levity, where she comments on social and political concerns with a sense of play and hilarity. Her simple yet meaningful creation takes the versatility of ceramics to its zenith, where it distils the challenge of displaying complex ideas in ceramics. Similarly, Subhankar Das's fascination with the form of an eye represents the toxic masculine gaze of objectifying women. Artist Vinod Daroz brings out a multi-layered metaphor through his works, which is intersected with mythology, traditions, and domesticity.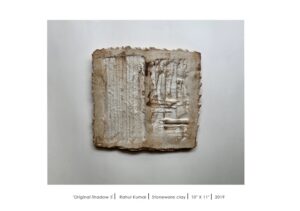 Dhi Artspace's passion for taking every art form to higher strata is evident in this show, which presents many stories of the making and metaphor of the ceramic object de art. This show reaffirms the ubiquity of the medium and the manifestation of visual art in it.
All Images are Courtesy of the artists and Dhi Artspace, Telangana.