When their legs got heavy and tired, they were determined to fly with their self-grown wings. Labourers' Exodus 2020 captures the perseverance and agony of the migrant labourers during the pandemic.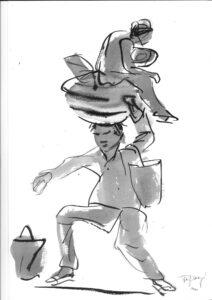 Art alive gallery's latest show 'Exodus 2020' displays the untold and unheard stories of migration labourers across the country during the lockdown. The series of artworks by Jatin Das is his expression of nightmare, suffering and underlying betrayal. The solo show of the artist is on display from February 20 to March 15, 2021. Hard times measure the fragility of human existence and that was very evident in the pandemic lockdown 2020. And everything that was left with almost everyone was the hope that tomorrow will be a better day. In those episodic days, there were waves of isolation, depression and economic crisis, but there were unheard voices screaming for help. The synchronous movement of men and women with ripped luggage and infants tugged on their waist were travelling many thousand miles on foot, bicycles, rickshaws and carts. Jatin Das's series of ink paintings captures the struggles of the migrant labourers and their exodus amid the pandemic.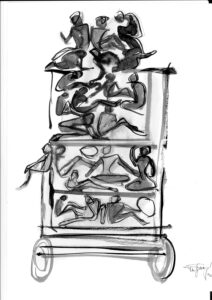 The reminder, how those migrant labourers who once filled our streets and roads, became invisible at once but when they were actually swarming the roads. Jatin Das draws his inspirations from the beldars, thhelawallahs, kudawallahs, manhole cleaners, rag pickers, house-help, construction workers, all those who toil non-stop. The work vividly expresses the temerity and tenacity of these invisible people even during a pandemic of such nature. Though the exodus might seem nightmarish to some and ignorant to others, betrayal of society is the truth that beholds it. Transcending the boundaries of material and form, the artist depicts the sufferings and experiences of migrant labourers. The tonality and shading of the images capture the emotions of the people. Emotions and reality are the substrata of the artist's images, where Rumi's concept of determination is illuminated.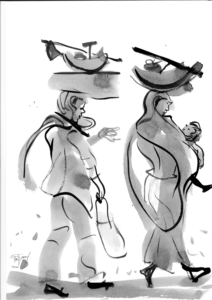 This ink on paper series shows the ground reality of modern India and the plight of its working class. The series displays images of labourers, where millions were driven to walk hundreds of kilometres to reach home. These heartbreaking and disturbing images show the grit of these workers fleeing the cities without food and water for many days. Unfettered by the heat and sore feet, they walked, pedalled and carried their loved ones without a slight glimpse of exhaustion and fatigue marching towards their homes. Jatin Das's carefully made strokes make the viewers perceive the palpable pain and the resolute energy of the working class, which makes them reflect a sense of empathy towards them. Das subtly expresses the inadequacy of the government machinery which turned the pandemic into a humanitarian crisis. The exhibition reminds us of these suddenly invisible people whose contribution is immense in every progress of the nation.