Sonal Varshneya's first ever tryst with watercolours and her first ever virtual solo show 'Jo Jahan Hein Wahin Rahe' is a fitting illustration of the hope that we must keep in these times where things are gradually getting back to normal.
Responding to with a measure of nostalgia, positivity and understanding, Sonal Varshneya's first ever watercolour series 'Jo Jahan Hein Wahin Rahe' is a poignant venture into the depiction of the strangeness of our isolation. We are bombarded with social media posts, webinars, videos and other entertainment – but due to our social nature, we seem to be tiring of the influx of media and information. Sonal's works depict the confusion of our need to connect, but being unable to do so and thus retiring to the virtual space for some comfort.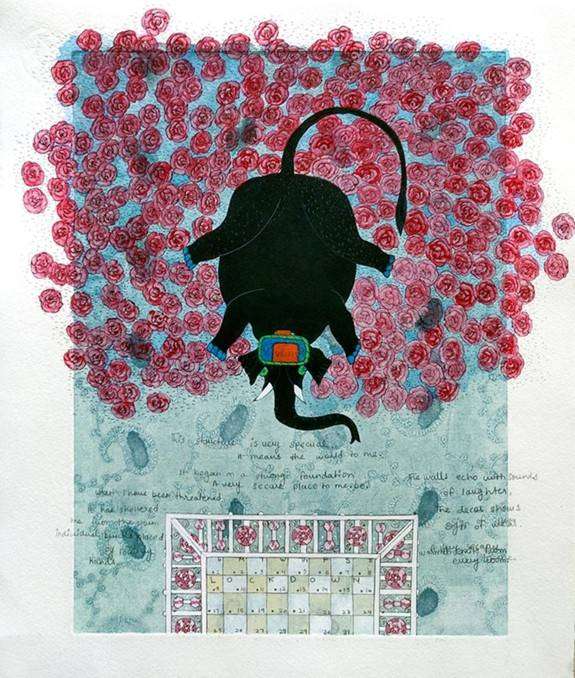 In some Artworks – the symbol of the board games becomes a recognition of our boredom as well as the mitigation of restless energy. We are drawn to connect with others and yet maintain a 'screen's' distance. The symbols are derived from her own works in the past, and they develop a new language as they incorporate the present. The watercolours are both light and heavy – speaking of issues that plague our minds and make the day seem longer than we usually want it to be.
The soft pinks juxtaposed against fruits, stock market symbols and even policemen give a strange feminine touch effortlessly. The watercolours deal with a myriad issues all at once and yet make sure your gaze moves around the compositions. Sonal herself said that she was limited by the availability of the materials and thus chose to do watercolours for the first time, as opposed to her medium of printmaking.
Her usual depiction of femininity is altered as she begins to include more symbolic gesture than literal illustration. The images are thought provoking, fun and yet deep; and so easily relevant to everything that we can see happening today.