by Team Mojarto
Did you know that keeping paintings or artworks in a particular direction or space can bring in positive emotions? Sounds incredible and impossible, but it's true! Likewise even the correct and suitable choice of art can trigger some amazing and unbelievable results which will do wonders for your rooms. All that is required is a keen sense of observation and the insight of choosing the right artwork that suits you. We bring you some easy tips to follow and present you with some of our unique artworks that can be used effortlessly to light up your home with artistic positive emotions and energy.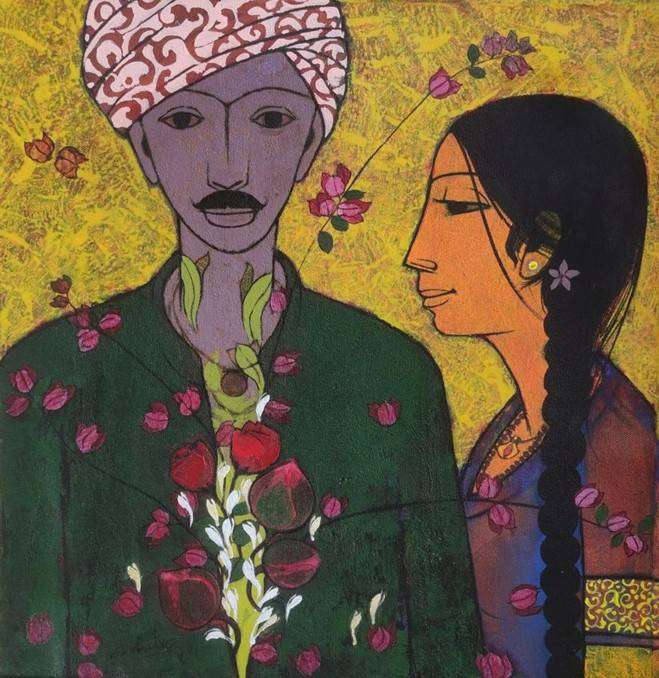 Keep this in mind while selecting a painting, you are supposed to pay attention to the expression of the artist or the general tone and feel of the artwork. Make sure that you choose works that seem to evoke happiness and positive emotions in order to bring in a divine feeling at home. Go with your gut feeling. The bottom line is that when you look at the artwork it should make you feel good and vibrant. While purchasing artworks with mythological characters, focus on the face of the god or goddesses. Opt for frames that showcase the deities in a calm composure.
Bulls hold a pivotal place in Hindu mythology and they are considered to be sacred and holy. They are revered to be the bestower of goodness and blessings. Placing an artwork or a painting that has bulls is considered to be auspicious and good for your home or living space as it symbolizes power, authority and energy.
The above painting by Dnyaneshwar Bembade is sure to bring in positive vibes in to your home. However, if you fancy an artwork depicting a bull in action, it is best to put it in your workplace rather than placing it at home. Take it to the office and hang it near the work desk and let the good luck and energy flow in.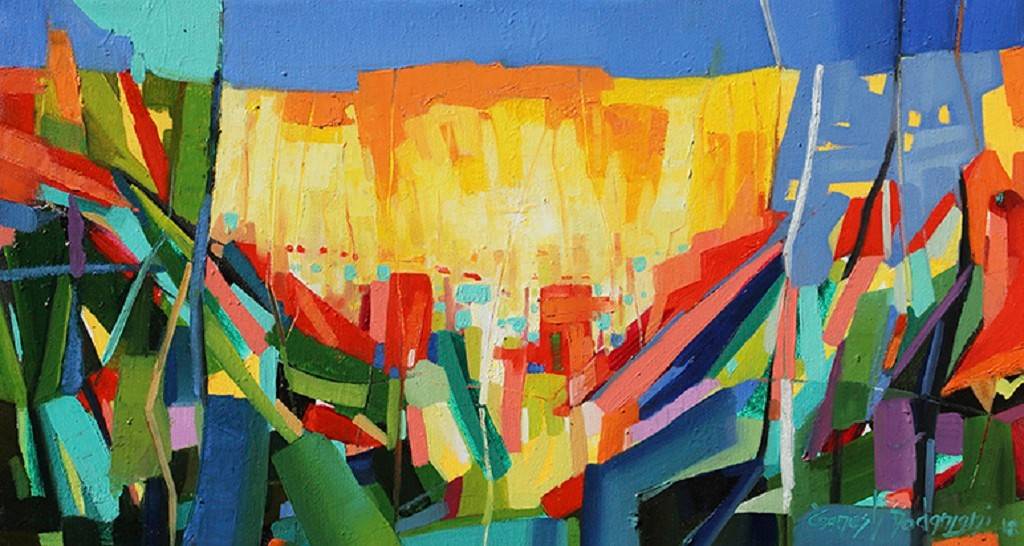 Are you inspired by Mother Nature and you wish to enrich your interiors with a landscape or images of fauna and flora? Decorate your wall with some interesting and intriguing art pieces of mother Nature that induces positive emotions around you. Artworks with high mountains placed behind the sofa enhance the look of your interiors and generate positive energy.
Art by itself is magical and by choosing the right one you can create an ambience that is striking, soothing and upbeat. Who said that all paintings that are positive has to be figurative and not abstract? Here we bring you one of the most beautiful abstract art that will bring about positive emotions and vibrations in your life.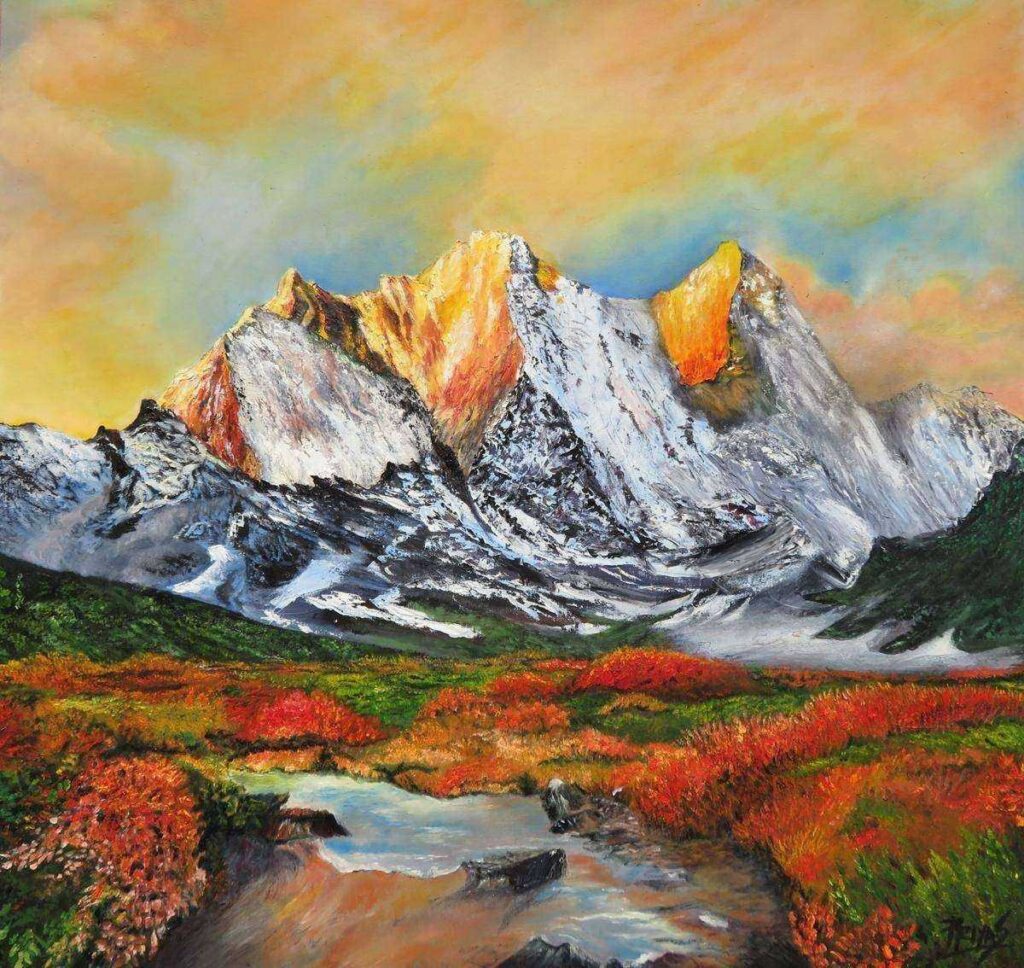 Nature contains with itself the power to catch the eye of the beholder, it is nature that has innumerable powers and strength that even mankind cannot dare to challenge. Nature is known and remembered for its power to bring upon both peace and disaster but it is very less known to all that nature contains the power to heal anything in this universe, be it a broken heart or a mundane life. Having a painting about nature on your wall is sure to bring in positive emotions and vibes into your living space. Mountains are the symbol of greatness and strength and that is very much evident through the above painting by Priya Kurup.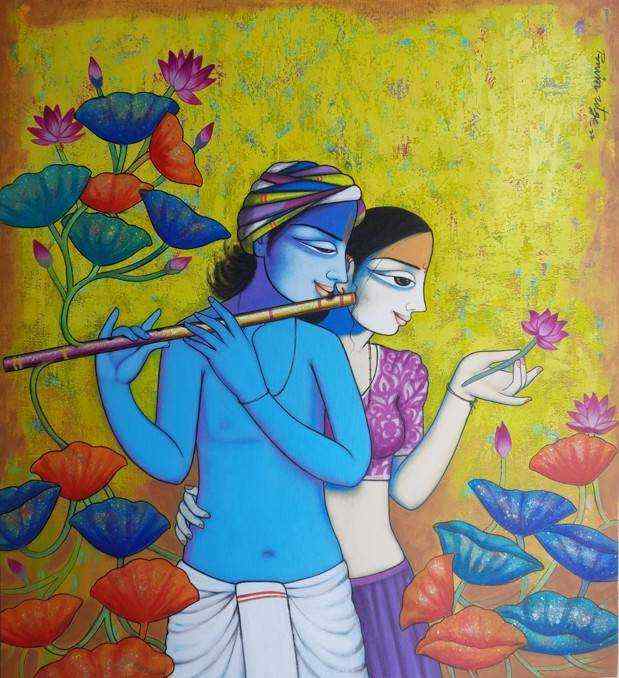 Lord Krishna is hailed by his devotees all around the world for his benevolent character and of course his playfulness. Krishna and Radhe together present a beautiful sight that is eye catching for all their devotees to have a glimpse on them. This painting by Pravin Utge captures just the right amount of grace and elegance that is required to strike a chord with anybody who sees it. Bring home this painting to enhance and enforce positive emotions around yourself.