by Team Mojarto
The color blue is considered very special as it represents both the sea and sky. It is among the three primary colors and the very glimpse of it feels refreshing and soothing. It also has a very calming effect on the psyche of people which is why one often finds hints of blue in homes and work spaces. Integrate the serene vibes from the myriad shades of blue on your walls.
Abstract art is all about the use of shapes, lines, patterns and colors to represent the ideas of the real world in an unconventional manner. There's no particular way of interpreting abstract art. It's what you feel about the art and how it speaks to you. Take your pick from this curated collection of abstract prints.
1. Seawall II
This linear themed piece will fit in perfectly and complement the decor of your house by making it more peaceful and tranquil.
2. Abstract Horizon III
The horizontal brush strokes in the color blue create a soothing vibe and builds a positive energy through its abstract representation of a distant horizon.
3. Ocean Deep I
This print generates palpable calmness in the environment that is showcased and brings visual equilibrium to the room.
4. Visible Sound II
This print shows us an interesting representation of sound vibrations. The color blue adds to the tranquility and peace of the environment.
5. Speckled Sea II
This rhythmic speckled print with ascending shades of color blue adds to the pulsating vibe of any place that it is kept in.
6. Nebulae I
This radial print with concentric circular patterns creates a dynamic and focal eye-catching effect on any wall. The many different shades of the color blue is beautiful and is creatively presented by the artist.
7. Starscreen IV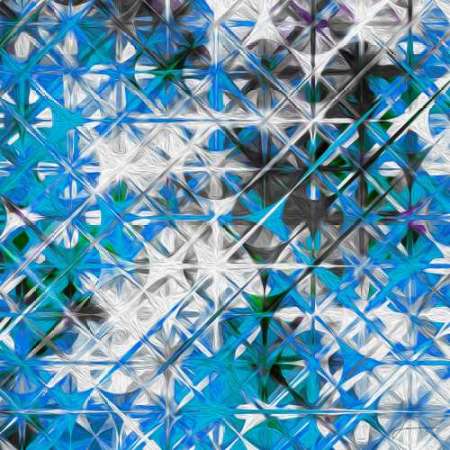 This print with intersecting lines shows a flattering blend of blue, white, and grey. It is compatible with the modern and elegant decor of homes and can be the perfect wall piece.
8. Fossil Infusion II A
Shapes are always interesting to look at and this print beautifully morphs these patterned squares and rectangles together. With subtle hints of flora and fauna this painting can adorn any wall it is hung on.
9. Circle Center I
Playing with shapes this print brings to you a beautiful blend of circles, triangles and squares. The other colors used perfectly complement the base color and make this radial design striking.
10. Aged Indigo I
This old-style print with a traditional design shows that blue is beautiful and it comprises of shades along with a few other complementary colors, simply perfect for your home.