Drawings are the simplest and the most fundamental form of visual expression using -mediums like pen, ink, graphite, charcoal, brush etc. Although we have all sketched at some point in our lives, still the art of drawing remains a skill that only a few can master. Drawing is the oldest form of human expression much before formal written communication was ever known to the human race. Ancient man used to communicate with pictorial representations on walls of caves, stones and trees.
Drawing and illustrations are perhaps the only artistic techniques that have left a profound impact on the human race; these have been carried forward for the longest period of time. Immerse yourself in the depths of human expression and artistic impression with drawings and illustrations. Many of them maybe in simple black and white but no means do they ever cease to create an almost ethereal impact.
 Buddhadev Mukherjee
Hailing from a small industrial town on Durgapur in West Bengal, Buddhadev Mukherjee's Chinese watercolour, ink and gold dust on Chinese rice paper may seem hard to decode at first glance. But the minimalist illustrations with a touch of mystery and surrealism, tells the story of the artist's journey as an artist as much as it narrates the common tales of the Indian middle class.
Deeply influenced by pioneers of the Bengal School movement such as Nandalal Bose, Benode Behari Mukherjee and Ramkinkar Baij, Mukherjee pursued his training for 5 years at Santiniketan's Kala Bhavana. He proceeded to get his master's from Maharaja Sayajirao University of Baroda.
He then trained at the premier China Academy of Art in Hangzhou in 2013 that allowed him to gain maturity in his work. Bringing together his technical expertise, the influence of Chinese art techniques, and his personal challenges that he overcame, he created the series on rice paper.
Mukherjee's artworks bring out human figures in all their weaknesses, disguises, dreams, and pains, but are balanced with a sense of humour and simplicity. Technical prowess and witty visualization are two aspects always present in each of Mukherjee's artworks.
John Tun Sein
Born in 1957, John Tun Sein trained at the Sir J.J. School of Art, Mumbai, in 1985. Following his graduation, Sein received a Lalit Kala Akademi Research Grant Scholarship in 1988-89.
Many introverts may gravitate towards John Tun Sein's canvases since his illustrations are dense and evocative. Many of his drawings are regular scenes from cafes or restaurants, gardens, lakes and other public spaces. The pull audiences feel towards his drawings are not due to any outlandish expression or bright colours, but as a result of his simple yet sensitive visuals that the audience soaks in, and makes her own.
With a strong sense of impressionism, John Tun Sein's drawing art and illustrations are relaxing and allow viewers to engage with them in their own unique way.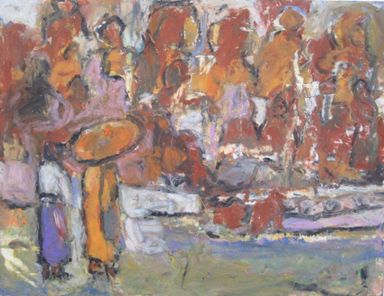 Badal Majumdar
Badal Majumdar's drawings are not only for visual pleasure, but they also have historic relevance. Invited to pictorially archive the Raj Bhavan in Karnataka Majumdar's drawings preserve the history of many significant monuments, heritage buildings, and public spaces. However, Majumdar's works stand out as they are a product of research and study. They are as historically notable as the subjects he recreates on his canvases.
Carefully etched in pen and ink on paper, Majumdar's illustrations depict visuals from abandoned and derelict buildings to the beauty of Cubbon Park in Bangalore. A graduate of the Government College of Art & Crafts, Agartala, Tripura, Majumdar's impeccable craftsmanship and attention to detail draws audiences from all backgrounds.
Enjoy a specially curated section of drawings and illustrations exclusively on Mojarto.