By P Abigail Sadhana Rao
The whole culture is telling you to hurry, while art tells you to take your time. Listen to the art." -Junot Diaz
With the passing of time, our lives have been bombarded with work and all the machine-made clamour that rings in our ears, making us less human dancing to the rhythm of the whirlwind that surrounds us. Every object has its own energy and has a strong influence.
We are what we are surrounded by, be it thoughts revolving in our heads, people in our lives or things that are present in the space that we inhabit. Whoever said, "Art makes a home more human," was right on point. With works of art, you can feel at ease. They elevate our senses and exude positivity.
Who doesn't want to have beautiful paintings in their home? Everyone wants to have unique paintings that not only add beauty to the home or office spaces but can also bring happiness and prosperity if chosen appropriately. Vastu Shastra lays emphasis on the importance of having paintings that will aid the transfer of energies that can change the entire course of our lives. The right paintings, according to Vastu experts, aid in the flow of positive energy in the home. Let's look at some artwork from Mojarto that can help bring positivity to your lives.
Horse Painting for Vastu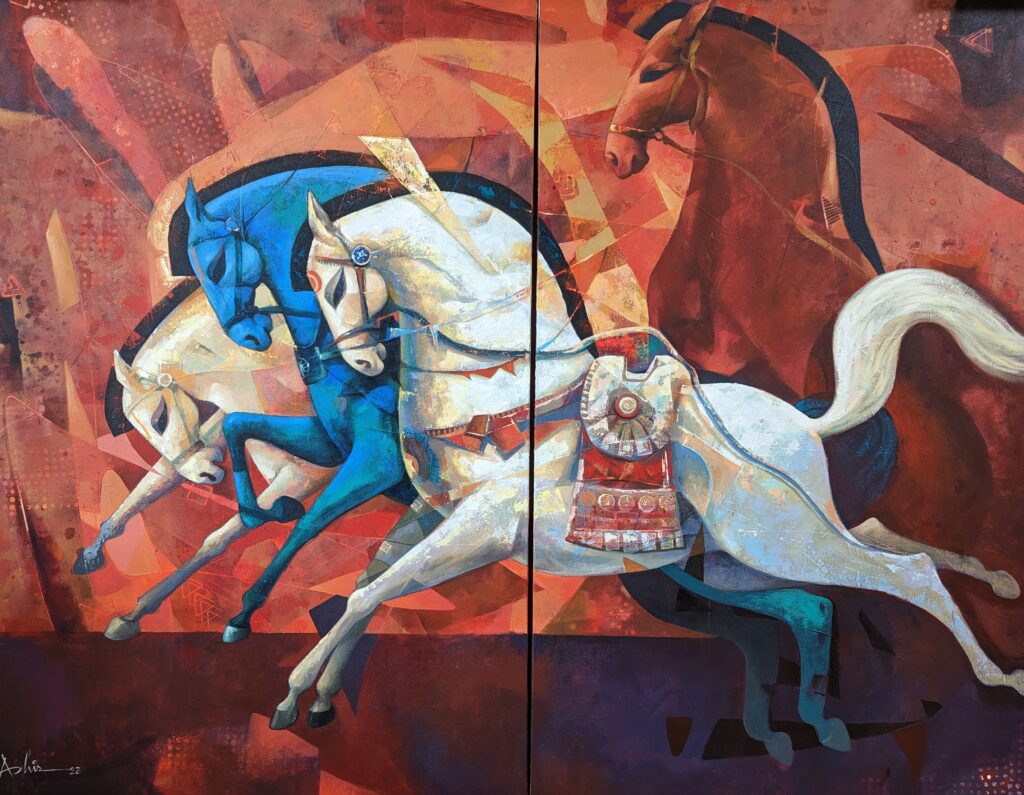 Horses are considered auspicious according to Vastu Shastra. They represent stability, bravery, power, strength, and loyalty. The act of placing galloping horses painting in the South direction is thought to have a good impact on many parts of one's life. Running horses represent both speed and expansion in life.
Ashis Mondal explores the dynamic relationship between beauty and strength, merging them into a compelling visual narrative to depict unrestrained and free-spirited creatures that emanate positivity. His paintings serve as a medium to convey the inherent power and beauty that exist in the world around us. Mondal's approach to art invites viewers to contemplate the interplay between aesthetics and strength, encouraging a deeper appreciation for the balance and harmony found in nature.
Floral Painting for Vastu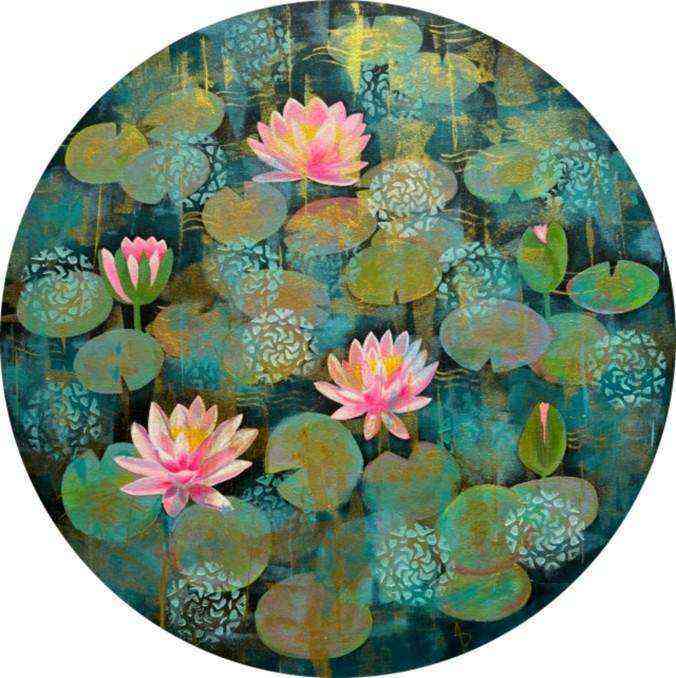 Paintings of flowers are considered good luck paintings as per Vastu because they trigger positive feelings and attract life force. Even in Feng Shui, flowers are a sign of chi and can enhance the mood of any living space. Amita Soni Dand's artwork, Turquoise Water Lilies has a serene effect on the onlooker.
Water lilies can be placed in any direction, preferably in the bedroom or in a space where mediation is practised. According to Vastu Shastra lilies symbolise happiness, harmony and peace and placing them in the bedroom could grant you sweet restful sleep. Keeping nightmares at bay, this painting will spark the aura of positive vibes. It is also an ideal gift to be presented at weddings as they also exemplify partnership and union.
Bull Painting for Vastu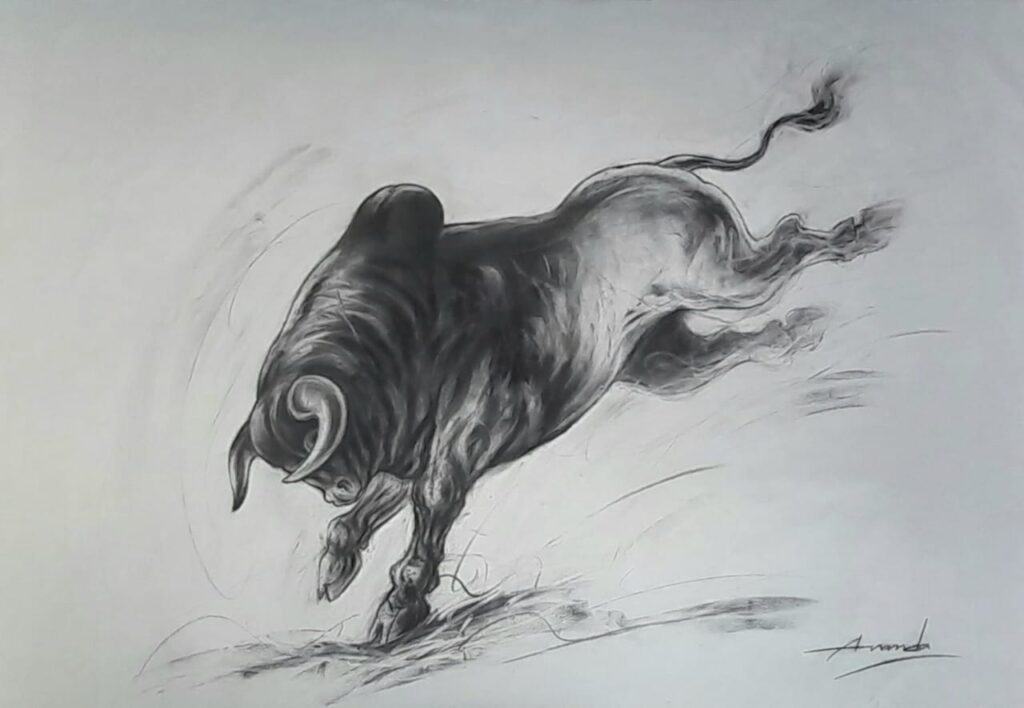 Bulls in general symbolise power, strength, speed and optimism. Placing this painting by Ananda Das in your workspace will bestow and transform your efforts into successful ventures and shower you with incremental prosperity. Charging Bull in Feng Shui is used to generate aggressive energy in financial situations. Dynamic paintings of a bull will not only ensure success but will help protect you from ill intentions of others. According to the Vastu Shastra, having a statue of a bull or a painting in the South-West direction of your home or office will help shape and maintain well-cherished devoted relationships and help bring ultimate gain, success and incremental prosperity in all one's endeavours. It also protects you from people with negative energies.
Kamdhenu Painting For Vastu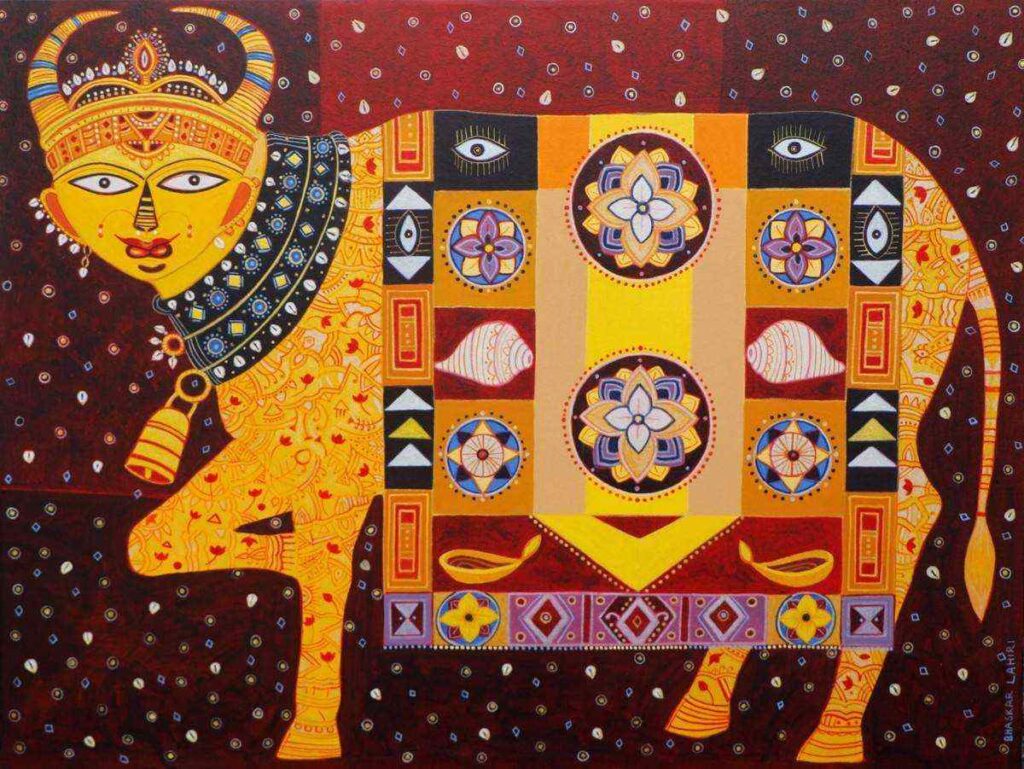 Bhaskar Lahiri draws inspiration from colourful folk art and lets his paintings give a contemporary view of the Bengal he loves. This artwork depicts a Kamadhenu, a divine cow residing in heaven. It is said to have appeared from the ocean during the 'churning of the seas' and having a Kamadhenu sculpture or a painting in your home may fulfil all your wishes. Placing it in the North-East direction will benefit you in numerous ways and bring wealth and happiness.
Tree Of Life
Tree of life, also popularly known as Kalpavriksha has been known to impart divine positivity. It also represents purity and fertility. Positioning this masterpiece in the North-West direction will enhance the aesthetics of your space, be it your living room, office space, commercial space or even a drawing room. It will also elevate you spiritually. The Tree of Life represents a spiritual bond and connects one to their ancestors. Ram Singh Urveti's imagery draws inspiration from the ancestral songs of the Gonds, passed down through generations. This enthralling Gond artwork will allow positivity to pervade all aspects of your life.