India is a land of colours and traditions. Our culture is our pride, self-esteem and identity. Similarly, some aspects of our society are deeply rooted in the traditions of our culture. One such aspect is folk art, which is an expression of the unique cultural essence and aesthetics. Indian folk art is vast, diverse and distinct. It is distinct from place to place, tribe to tribe and practices to practices. However, over the century, Indian folk art has gone through several changes. Some have adapted to the new techniques, mediums and materials, while others remain untouched by the external factors. The themes and motifs in these art forms have undergone tremendous changes and adapted the contemporary ideas, issues and thoughts. Folk arts like Madhubani, Gond and Warli paintings still stands majestically without succumbing to the pride of Peppa pigs and digital punks.
Here are some of the most popular and sought after folk arts today. Explore through the pages of Mojarto to decorate your walls with an eclectic manifestation of Indian culture. Fill your rooms with a sense of antiquity, elegance and beauty through these folk artworks. Steeping in tradition, the art forms are gradually evolving incorporating contemporary elements! These artworks of devotion and happiness, created with utmost joy by artists invoke joyous feelings and positive vibes.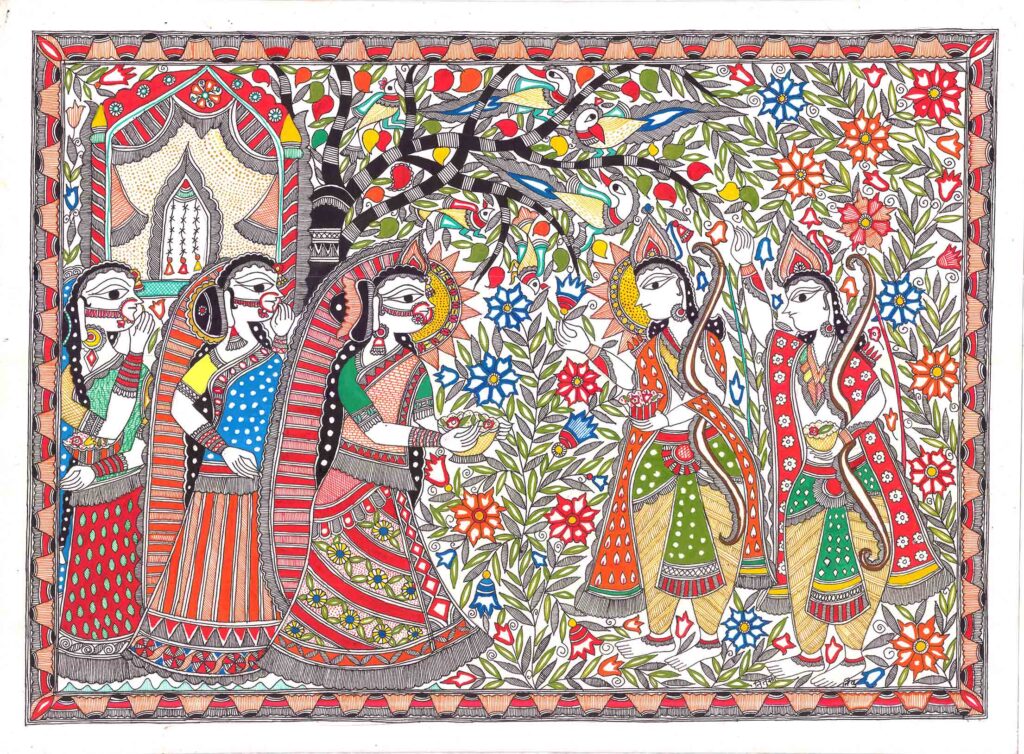 The Ramayana has many beautiful heartwarming episodes that lend themselves wonderfully well to artistic inclinations. This beautiful and colourful Madhubani painting shows the return of Lord Rama and Lakshman to Ayodhya after the vanvasa (the exile). Every inch of this acrylic and ink on canvas is covered with design. The little touches like the bird viewing with joy, the blooming flowers and the design of their ornate jewellery are what make it so appealing. Madhubani painting is a folk art form that originated in the Mithila region and uses complex geometrical patterns. These paintings are rich in ritual content and the colours are mostly derived from plants and other natural sources. The paintings are created using objects found commonly around them like twigs, matchsticks and even fingers.
Bhil art is a traditional art form that originated in Madhya Pradesh. Intricate art was created on the clay walls using neem sticks and other twigs. Natural dyes would be made using materials such as turmeric, flour, vegetables, leaves and oil. This work is by Bhuri Bhai, an internationally renowned practitioner of Bhil art. She derives her inspiration from the simple things she saw around her in her rural life, in this case, two birds and a tree engrossed in deep conversation. The colourful dots and lines used to create the bird stand in sharp contrast to the dark colouring of the images of a man and trees.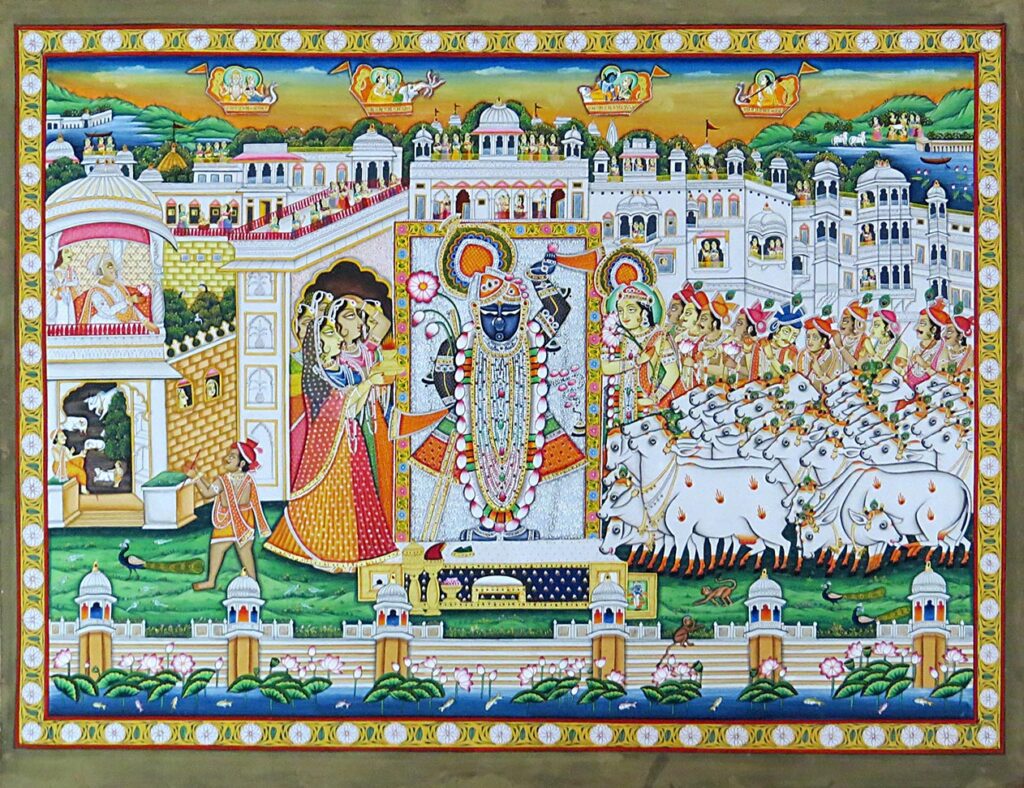 Pichwai art was created to narrate the various tales of Krishna to the masses. This art form has been passed on from generation to generation and created by a community of artists from Nadthwara. This work has been created with natural stone colour on cloth and depicts cows which are associated with Lord Krishna who was a cow lover. The floral border gives the work a decorative look. The figurative style is distinct and would look great on any wall.