By P Abigail Sadhana Rao
Markets are said to possess a sense of enchantment. They have been known to entrap people and make them feel an unquenchable urge to own all the lovely objects lying around them, in all their trinkety beauty. Due to the onslaught of a dizzying array of objects being paraded, all of your senses are engaged in the event, sometimes for enjoyment and other times for survival. As one focuses on the first of their potential conquests, the flowers, vermilion, bangles, chaiwallahs, pani puriwallahs, and the occasional aggressive goat will all blur into a single, chaotic cacophony. Never mind that someone else is already triumphantly grasping for it.
India, one of the world's most culturally and aesthetically diverse countries, has its fair share of famous markets hidden away in every nook that provides a living for many. However, this nation is rife with peculiarities, and in all its grandeur, you would find yourself pretty enthralled in its markets. They are places where colours, commerce, and culture converge. Let's dive in and visit five market spaces of India through paintings by contemporary artists in Mojarto.
Charminar Street
Iruvan Karunakaran effortlessly brings the culture of the people and place to life on his canvases. The construct of his artwork revolves around subjects of quotidian life. In a city where modernism has taken over, Iruvan paints Charminar's neighbourhood and retains its charming rusticness. Situated at the heart of Hyderabad, it holds much history. This marketplace has seen much trade and an influx of culture since the Qutb Shahis and the Nizams. It is highly recognised across the world for the Barsa Pearl, which is adorned with gold and silver. It is one of the oldest markets in the city. It is also home to Laad Bazar, which is popularly known as "choodi bazaar," a paradise of bangles.
Jama Masjid
Tucked away in the narrow lanes are the markets of Old Delhi. Sanjay Soni's painting of Jama Masjid evocatively depicts the busy gullies of "purani Dilli" where one will find a lane for every little craving of theirs. From spices to apparel, perfumes to shiny trinkets, you will find it all and with it several untold forgotten stories of survival. It is a shopper's paradise and a vendor's promised land of big dreams. This place will never cease to surprise you.
Marketspace Of Kolkata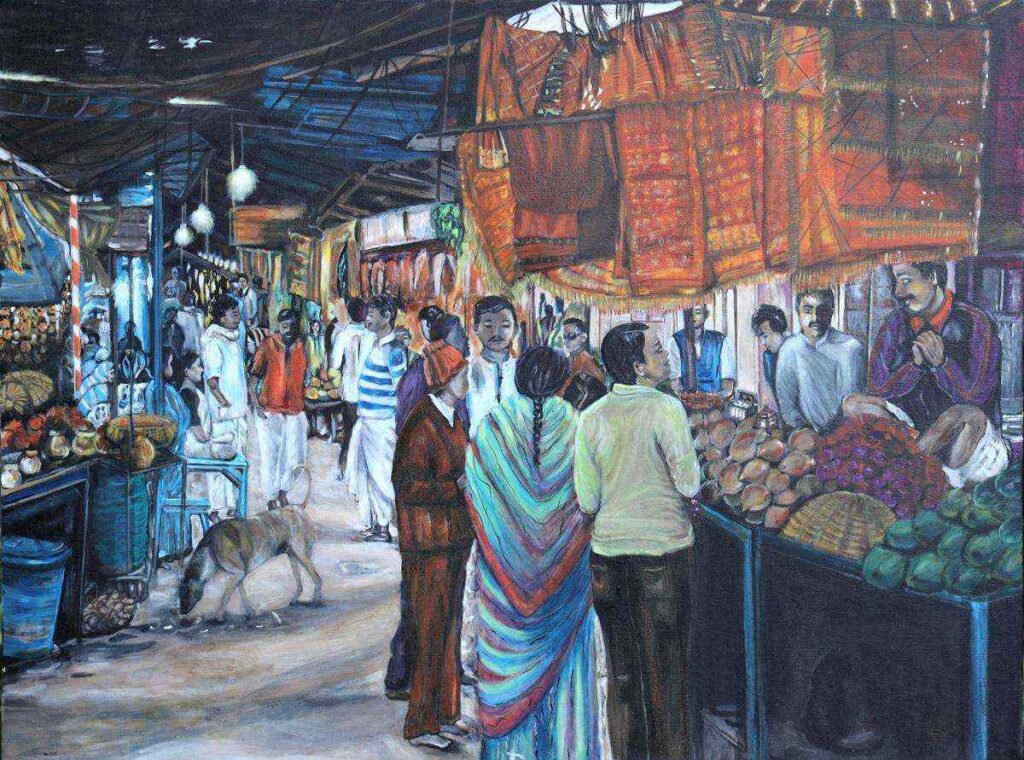 Kolkata is a conglomerate of markets much like any other city in India. Known as the city of joy, renowned for its history, culture, and of course, its delectable sweets. The markets of Kolkata contain everything for everyone, from exotic flowers to leather bags, fresh fruits to clothes of all kinds, and seafood to shimmery jewellery. If one has great bargaining skills, one can buy all one wants without burning a hole in your pocket. This acrylic on canvas by Sheeba portrays a glimpse of the markets of Kolkata that are stretched in a labyrinth of stalls. Her palette of vivid colours paints the unquestionable heavens of Kolkata that offer solace to anyone to enjoys strolling about and being surrounded by the chaos of marketspaces.
Crawford Market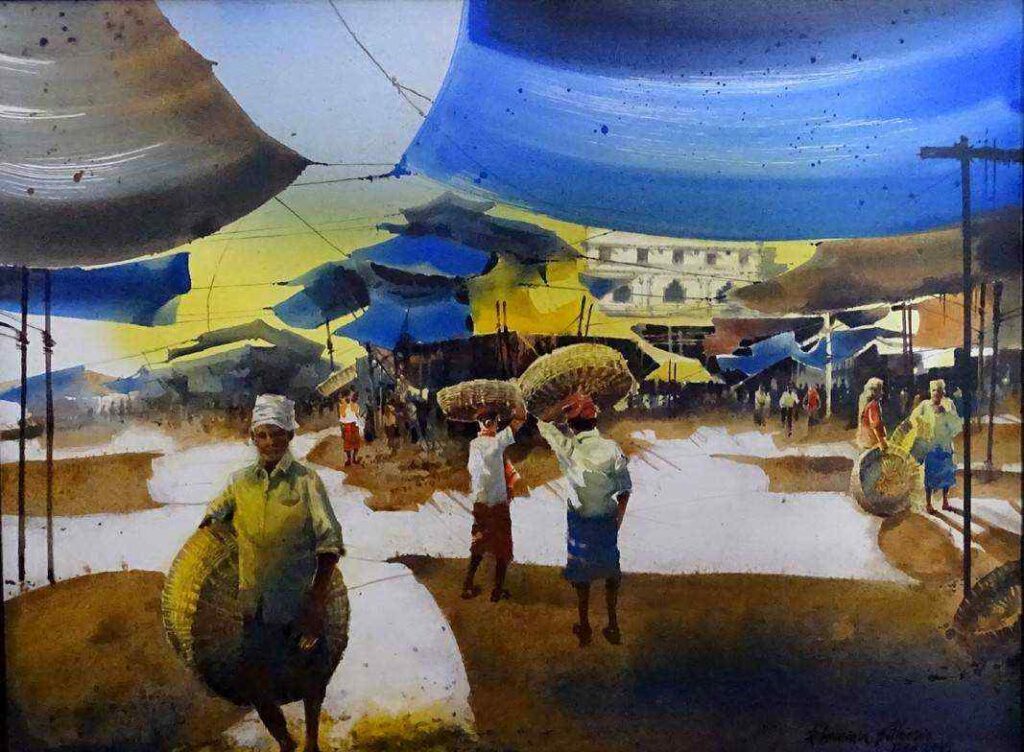 Crawford Market is one of the oldest markets in the "city that never sleeps." The market is housed in a historic colonial building which was one of the first buildings in India to be lit by electricity. Since 1869, this Gothic structure has lent stately grace to stalls selling everything you could possibly need, from paper cups to puppies. Bhunwan Silhare's painting not only reminds us of this bustling market that has stood the test of time but also transports us to a different era.
Fruit Market In Abids
Change is the law of nature, and with it comes the erasure of geographical identity. Vishalandra Dakur in this artwork depicts the long-forgotten fruit market in Abids that was about 400 years old. Vishalandra through the strokes of his brushes paints a picturesque marketplace of Hyderabad from his memory. The place however remains a center of commercial trade, nonetheless by erasing the existence of the fruit market, one erases the evidence of it ever being there, along with its history.