By P Abigail Sadhana Rao
Art is an expression of the soul, and no one understood this better than Maqbool Fida Hussain, the celebrated and controversial master artist of India. He was often referred to as the "Picasso of Indian Art" and gained worldwide recognition for his dedication, idiosyncrasies, and prolific career, which comprised maybe close to 40,000 paintings. To him, art was fluid and free, it was always an extension of how he perceived the world. Hussain remains a source of both admiration and controversy in India, regarded as a champion of secularism and the greatest modern Indian artist.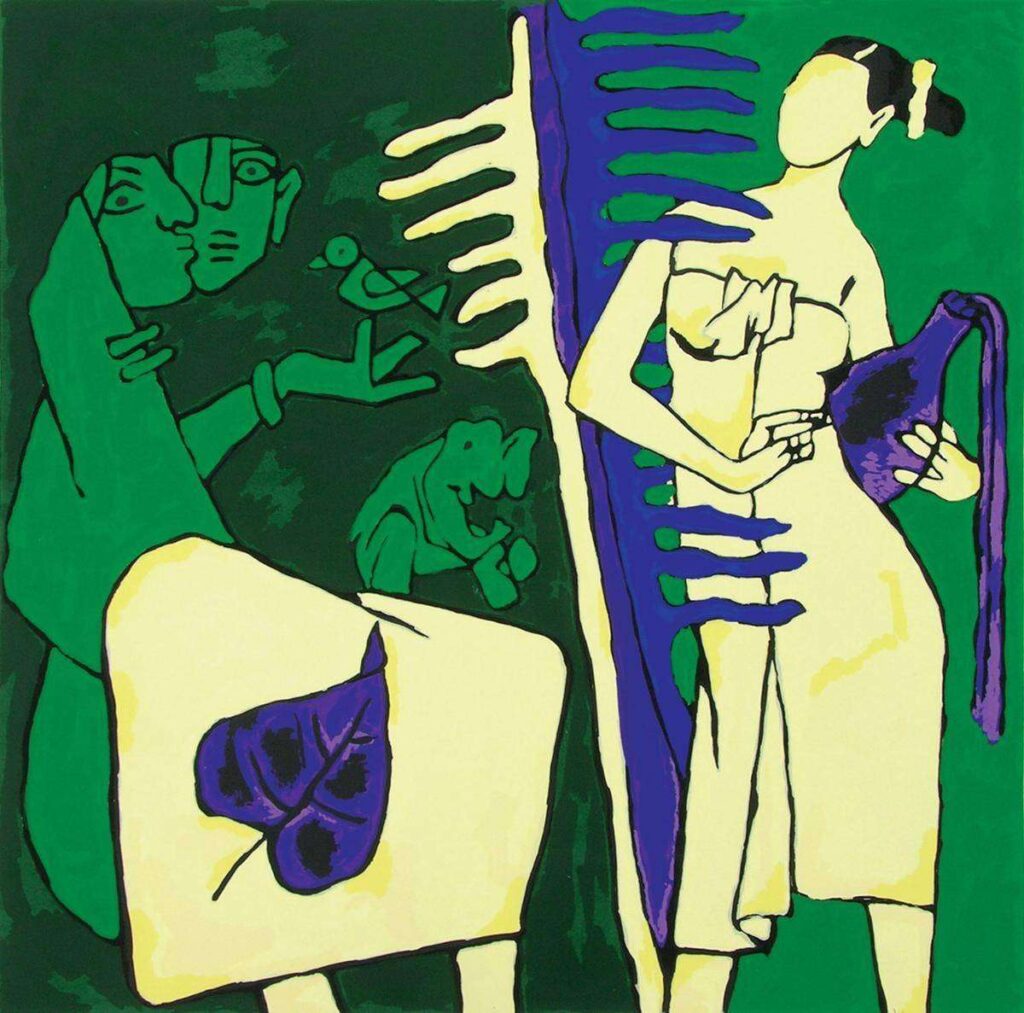 Hussain's life was a fascinating and tumultuous journey. He began his artistic journey by painting cinema hoardings and posters and soon gained a reputation as a talented artist. In the early 1950s, he moved to Mumbai, where he became part of the Progressive Artists' Group, which included luminaries such as S.H. Raza, Francis Newton Souza, and K.H. Ara. The group aimed to break away from the traditional style of Indian art and embrace a more modern, Western style. This movement heavily influenced Hussain's art, and he soon became one of its most prominent members.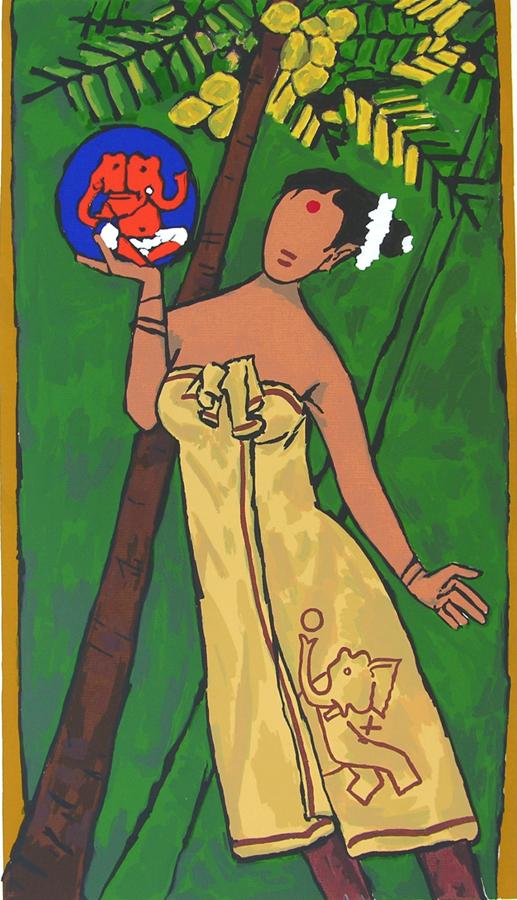 M F Hussain's art was characterised by bold and dynamic strokes, vivid colors, and an inimitable style that was entirely his own. His works ranged from depictions of everyday life to more abstract themes, and he was renowned for his ability to capture the essence of a place and its people through his art. He was a master of blending traditional Indian art forms with modernism, and his art was a tribute to India's rich cultural heritage.
Hussain's iconic series, Mother Teresa and Horses, are widely recognised, but his Kerala series is relatively less known. The Kerala Series is a collection of paintings that Hussain created during his visits to Kerala in the late 1970s and early 1980s. The series consists of 80 paintings that beautifully capture the essence of Kerala's lush landscape, its people, and its culture.
The Kerala Series reflects Hussain's fascination and admiration for Kerala's beauty. Bold brushstrokes, vivid colors, and a strong sense of movement characterise the paintings, which capture the vibrancy of the state's landscape. The series showcases the varied topography of Kerala, from its lush green forests to its serene backwaters, sprawling elephants, and lively people.
In addition to the landscape, the Kerala Series also captures the unique culture and traditions of Kerala. Hussain portrays the daily life of the people, their festivals, and their customs in a vivid and lively manner. The series also depicts the state's rich history and mythology through his unique artistic style.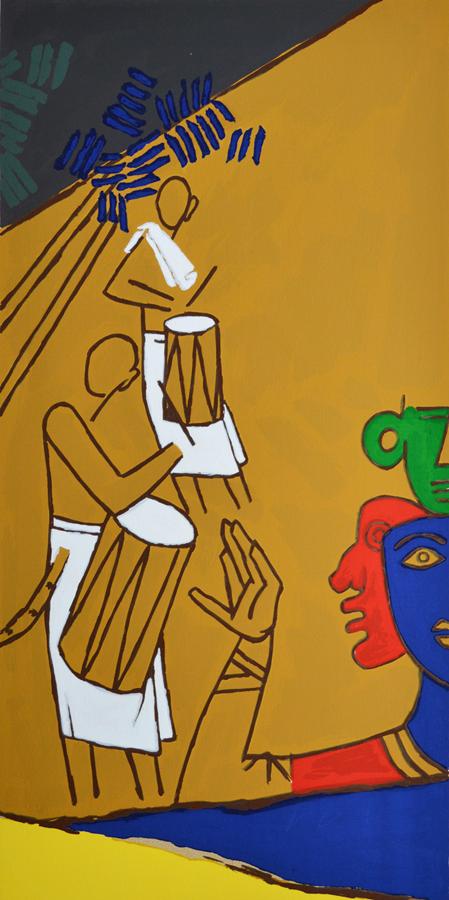 This series perfectly exemplifies his adroit ability to blend traditional Indian art forms with modernism. The series in a way pays tribute to the rich cultural heritage of India and showcases M F Hussain's vision of Indian art. However, the Kerala Series was not without its controversies. Some of the paintings in the series, particularly those depicting Hindu deities in a non-traditional way, sparked outrage among certain sections of society. Hussain was forced to leave the country in 2006 due to death threats and protests against his art.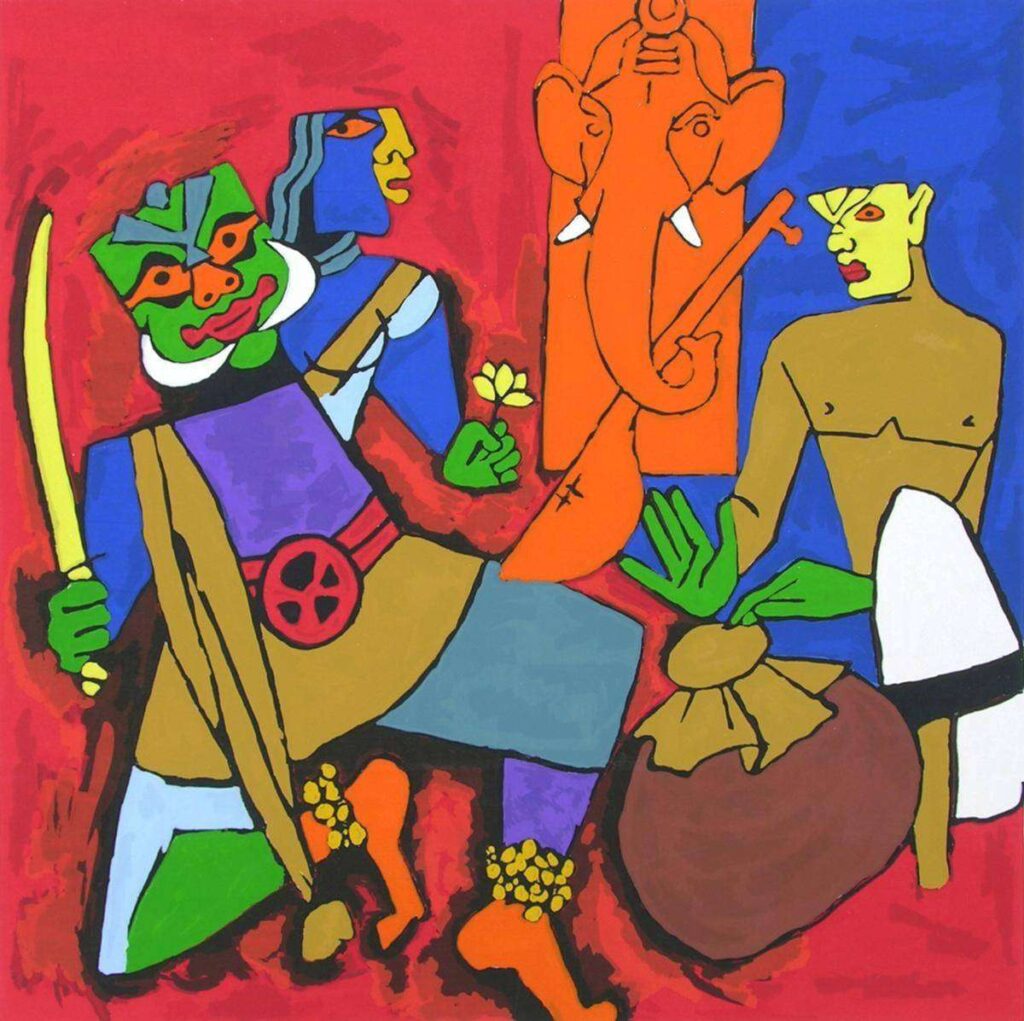 Despite the controversies, the Kerala Series remains one of the most significant works of M F Hussain. Each painting in the series is a masterpiece in its own right. This series is a true hidden treasure of Indian art and culture among his other works, and it will continue to inspire and enchant art lovers for generations to come. In conclusion, the Kerala series is a remarkable testimony to Hussain's artistic vision, his passion for India's cultural heritage, and his unique ability to capture the essence of a place and its people through his art.