India is a country of diversity but the expression "unity in diversity" suits it better. The country is a homeland for diverse languages, cultures, religions and traditions. All this diversity coexists in peace and harmony. India is a country that is celebrated for its brotherhood and acceptance. No great land has ever accepted these many religions and cultures with an embracing arm. India is a country rich in art, heritage and cultural opulence. It is the land of colours, sadhus and hope.
All these things stand as a legacy and testimony to India's great history. Same as diversity, secularism is another term that defines the country. As we celebrate the 75th Independence day this year, it is the best time to cherish all its history, valour, struggle and successes. Let us take a look at some of the artworks and paintings that focus on themes that define India.
Our country is rich in its culture and traditions. Every nook and corner of the country has its own culture. Despite different traditions and cultures its citizens stand united under one roof as a Nation.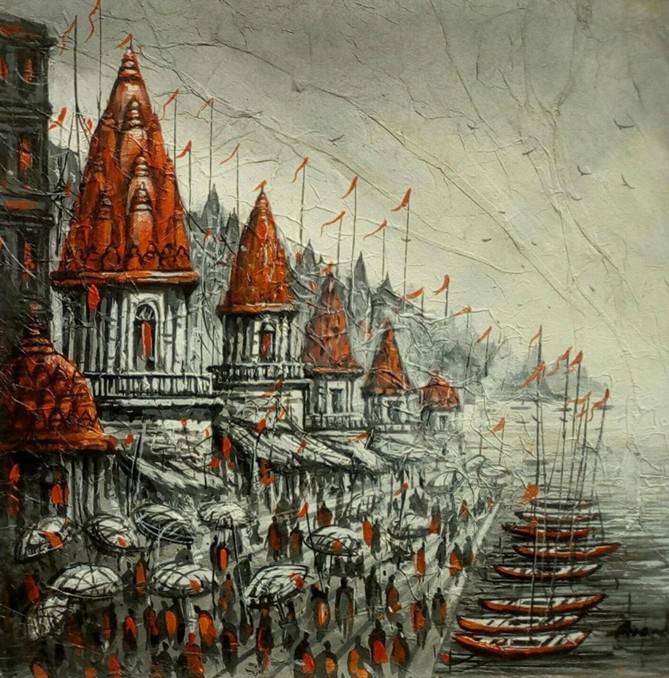 The country is beautifully painted with colourful hues; hues of religion, history and heritage. Heritage, both tangible and intangible, is the treasures of the country. This painting titled 'Banaras brings out the divinity and elegance of the holy city. Ananda Das's choice of palette infuses a celestial and deific feel in the setting.
Gandhiji indeed had a photograph of an unknown man in his living room. It is the concept of the father of the nation that every man in this country is an identity of it.
With all our differences and conflicts we stand united by one word called India. We might call it 'Hindustan' or 'Bharat' but it is truly India in spirit. Our country in all her glory is compared to a motherly figure. This painting by Nitai Das shows Bharatmata nurturing her child. Ours is not just a country but a true emotion. The name itself gives a whole lot of pride. It becomes a self-identity and self-esteem. Just as a mother gives life, nurtures us with food and love, Mother India also nurtures us with shelter, love and hope.