by Dhiraj Singh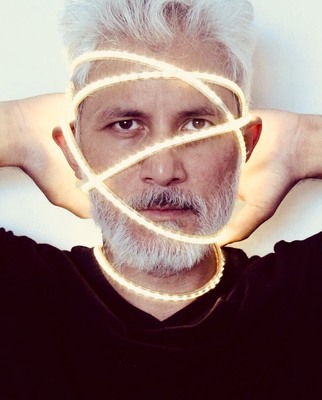 Andy has a book in which he writes down all his blessings. All of them since he was 12. And there are 7904 of them at the beginning of the play. Andy is Anindya Chatterjee, a math teacher who is also the Treasurer of Indian Origami, a nation-wide association of origamists. Andy is also a huge fan of Nina Bedi, one of the country's top origami artists (which is to say that she's famous among 200-odd people in the whole wide world). And for the benefit of this select audience she has written a book, which is one of Andy's most cherished blessings at number 5000-something. He has read till his heart ached. However, after ruling the hearts and hands of origamists around the country Nina has suddenly gone off the radar. The brochures that Indian Origami sends her have also returned. And her annual due to the organisation, a princely amount of 500 bucks has not been paid. So naturally Andy is worried, so much so that he comes to Nina's place one rainy afternoon and rings her door buzzer. Nina has just had a break-up from her husband and her dog has disappeared. She's not in the best frame of mind to open her door to the stranger that Andy is to her, although as he reminds her they've met before at three annual origami conferences but she doesn't remember him.
It is not often that a play can be about so many things and be swank equally in all of them. And that foremostly is because of the beauty of the writing. If someone had asked me to watch a play about origami I would've said: yeah right. But the fact is that I did. And not just that, I loved it. 'Animals Out Of Paper' is a play that turns folding paper into a metaphor for so much that happens in life that it is almost disgusting. I mean how could a writer be so spookily on point. "Look at this paper. It's just flat," Nina says in one scene, "but fold it and suddenly it remembers something. And then with each fold, another memory, another experience… Folds leave scars." It was scenes like these that left the usually fidgety Delhi audience entranced from start to finish.
The play is also about a young boy, an origami genius, who instinctively knows how to fold phenomenal creatures from single pieces of paper. He is not a veteran like Nina, who has honed her art over years of practice, often going through the labored process of sketching folds before she actually carries them out. Suresh on the other hand can see the final shape of things even before he puts his hands to paper.
It is Andy, whom the origami whiz calls 'Chat-man', who brings the two together. Because he'd like the young genius to get acquainted with the larger world of origami. It is a problematic encounter that many well-meaning people try to engineer, between veteran and prodigy. And it has much of the fireworks expected of such a meeting. When the voice of experience talks down to the impetuosity of youth. And youth strikes back. Suresh does too and calls Nina a bitch for slighting him, his way of seeing things.Suresh is the enfant terrible who wants to break out of the pigeonholes and formalism of art. He has his own way of doing things. He likes to 'freestyle' in his folding as he does in his hip-hop. Yes, he's also a budding rapper. "You gotta freestyle a bit," he tells Nina. It is great advice—the kind I really dig—that is often not given to artists.
And am glad that Rajiv Joseph, the Pulitzer-finalist writer of 'Animals Out Of paper', has managed to wing this advice into his work. Especially considering that origami is an artform that's not known for its freestyling. Watching the play I felt as if someone was resonating my own feelings about art. Art is indeed EVERYWHERE! You just have to see it, hear it, sense it.
Vivek Mansukhani who is the heart of Joseph's Indian adaptation plays Andy. His theatre company Scene Stealers has been missing in action for a long time and this is its worthy comeback. Sriharsh Sharma is amazing as the genius origamist. And Geeta Sudan as Nina Bedi is superlative as she brings alive the subtle dilemmas of an artist and a woman living through a major unfolding in her life.
The set for the Delhi debut of the play was especially created by Ankon Mitra and his student Aditi Anuj, two far-out origami artists whose practice and oeuvre has now been introduced to a whole new audience thanks to this play. Poonam Bhagat's sharp cuts and designs give the clothes a very contemporary feel. Last but not the least is Aditee Biswas' 360 vision for the adaption that effortlessly situates an American drama in an Indian context.
Dhiraj Singh is a well-known journalist, writer, TV personality and artist who has shown his abstract paintings and X-Ray works in India and abroad.