By Manjari Mukherjee
Just a little over a century ago, around the 1950's the first abstract artists such as Jackson Pollock, Piet Modrian, Mark Rothko emerged. They let go of all referential markers and instead expressed themselves through abstractions. Although an entirely new form of art in the mid twentieth century, abstract art is now well established as one of the more popular forms of art. Still, artists continue to experiment and push boundaries within the abstract forms. Here is our list of Indian artists who are admired for their abstract art.
1. Kavita Jaiswal
A contemporary Indian Abstract artist known as much for her creative expression as for her expert techniques. An artist for about 35 years, Kavita Jaiswal's various experiments on paper and canvas, in pure media and mixed media techniques have led her to become one of the most renowned abstract artists of India. After her initial explorations using recognizable form, figures, and geometry did she eventually enter complete abstraction in the early 2000's. Free from form and structure, she entered the world of abstraction and enjoyed a plethora of expressions. Working with multiple mediums, Kavita Jaiswal's work often resembles the world through a microscope. Her artworks can narrate a thousand different tales and more. The artist lives and works in New Delhi.
2. Mona Rai
"I need to feel the experience of actually hurling paint onto the canvas. I can see my work opening itself up more and more."Mona Rai's works are as evocative as they are meditative. Time and light are the two constant motifs in her works. The dualities of inertia and energy that govern our planet find place in her work. Her work mostly relates to the cosmic mystery of open space, light, and time, that is intangible and cannot be easily 'boxed or compartmentalized. During her long and distinguished career, she has exhibited internationally and features in several prestigious collections. She has quite definitely changed the visual landscape of the country.
3. Ravi Mandlik
A Mumbai-based artist, Ravi Mandlik's abstract art was initially inspired from the forests of his native place in Maharashtra. Although his abstracts now resound the city life, his unique texturing is still derived from the thick forests surrounding his home. After earning his fine art degree at the Sir J.J. School of Art, he lectured there for a short time. Soon after decided to become a full-time artist and has since been exhibiting worldwide. At an early stage in his career he won the international award of the Seychelles Visual Art Biennale from the Seychelles Government in 1992. Ravi Mandlik's abstracts are based on energy. Playing mostly in acrylic he attempts to capture the movement of energy on his canvas. With a consistently subtle colour composition, he is able to keep a balance between strength, texture and depth of form.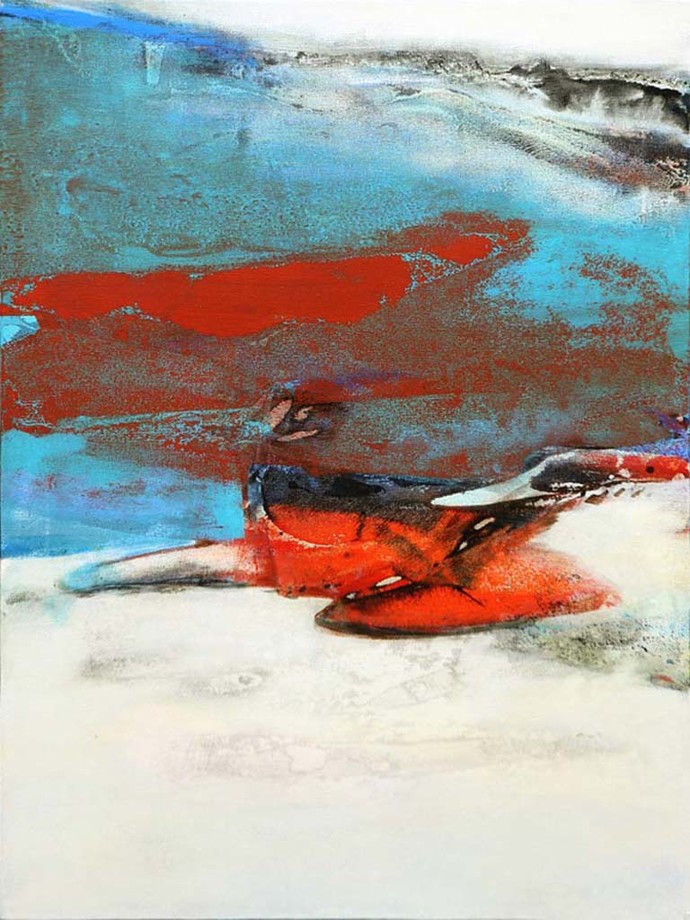 4. Sachin George Sebastian
Starting out as a graphic design student from National Institute of Design, Sachin George Sebastian explored creation of sculptures, installations a 3D art by using paper as his medium. Inspired by paper engineering and the everyday newspapers, Sebastian's works represent the collective making and unmaking of history. While some stories and news gets archived for posterity, some get lost in the world of oblivion. Sebastian works simultaneously with the idea of the city or metropolis and the daily accumulation and dissolution of the everyday stories and events. He tries to bring out the tantalizing beauty of the overview of a metropolis while exposing the tumultuous energy upon a close-up.
5. Bose Krishnamachari
Known as an artist and curator Bose Krishnamachari's oeuvre and artistic practice spans across figurative, sculpture, photography and multimedia installation. But, he is best known for his iconic bold and colourful abstract paintings. While stylistically varied, a common thread runs throughout his works. He has strongly and consistently critiqued the non-essential power structures that operate within the art world and more broadly in contemporary society. In his first solo show in 1990, Krishnamachari deployed a minimalist style, producing an abstract black on black with white perforated paper, reminiscent of Braille. As viewers could neither touch nor read the language his works became a comment on the contemporary art culture that is often inaccessible to those outside of the art world. Other works by Krishnamachari look beyond the art world, and seeks to examine the psyche of the 'average Mumbaikar' and make visible what he describes as the "ocean of anxieties that have arisen from the everyday question of acceptance".
6. Laxman Shrestha
"I am something of a loner, I'd rather immerse myself in a good book or collect my thoughts by talking long, solitary walks. This gives me a clarity of vision that is reflected in my paintings". Laxman Shreshtha's abstract works are both sensuous and meditative in their shifts and balances of colour. One can observe a palpable movement from chaos to spiritual peace, in his work. His work is intricately related to the events in his life and the struggles he has had to face. Shreshtha's journey, from being a member of an aristocratic family in Nepal, to a struggling art student on the brink of starvation, made him embark on a spiritual quest, which has been reflected in his work. He looked for answers to his early existentialist dilemmas in books on Western philosophy. Later he turned to the Upanishads and to Buddhism. His paintings are a reflection of these experiences.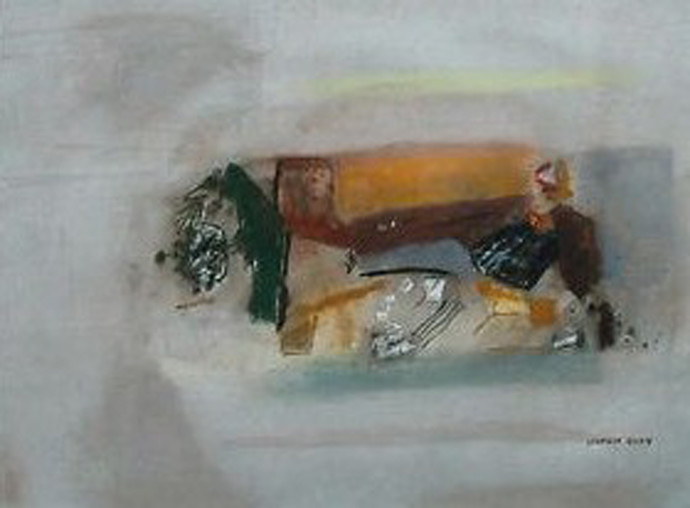 7. Akkitham Narayanan
With a predisposition towards the purity of geometry, Akkitham creates a fusion of Indian tantrik art and the European geometric art. Akkitham works around the idea of geometry as a natural byproduct of earth within a universal system. His abstract works reflect the essence of life and spirit. Many of the colours and forms that come repeatedly in the artworks represents chants and the reverberations they create. Akkitham was inspired by the traditional Kerala architecture. His colours are influenced by the mural paintings that he was exposed to during his childhood days.
8. Manoj Kachangal
Born in Shadhora, Madhya Pradesh, Manoj Kachangal is known for his bright abstract paintings. Growing up in a small village, in the midst of natural beauty, that his artistic journey began. Nature continues to remain a significant aspect of his art practice. In fact, one of his first paintings before enrolling in the Institute of Fine Arts, Indore, was simply a mud hit with flowers on the walls using natural pigments. Steeped in the discourse around aesthetics, life energy and Indian mythology, his art practice is a reflection of his thought processes. Kachangal's use of colour and strong vivid brushstrokes overrides all other elements in his work. There are no geographical markers in his artworks but they are often relegated as abstract landscapes.
9. Yogesh Rawal
Ranging from collage, sculpture, printmaking and painting, the magic in Yogesh Rawal's abstractions lie in his method and material. While his use of pigment is minimal, Rawal freely works with paper collage, cellulose and synthetic resin. Viewers often find his palette monochromatic, or simply black and white. Born in Wankaner, Saurashtra, Yogesh Rawal graduated from the Sir J.J. School of Art, Mumbai, in 1978. In 1979 he received a scholarship from the French Government to study lithography at the renowned L'ecole National Superieure des Beaux-arts, Paris. In 1980 he studied etching at Atelier 17, also in Paris. The artist has won several awards and has exhibited all over India, Europe and the United States. His most recent solo exhibitions include those held at Aicon Gallery, New York, in 2007; Pundole Art Gallery, Mumbai, in 2005; and Admit One Gallery, New York, in 2000. In Rawal's compositions, the study of light and dark are of utmost importance. His deep understanding of light and shade often leaves his viewers amazed at his ability to manipulate it in his multi-layered works. Several of his etchings have also evolved from his study of light and its effects.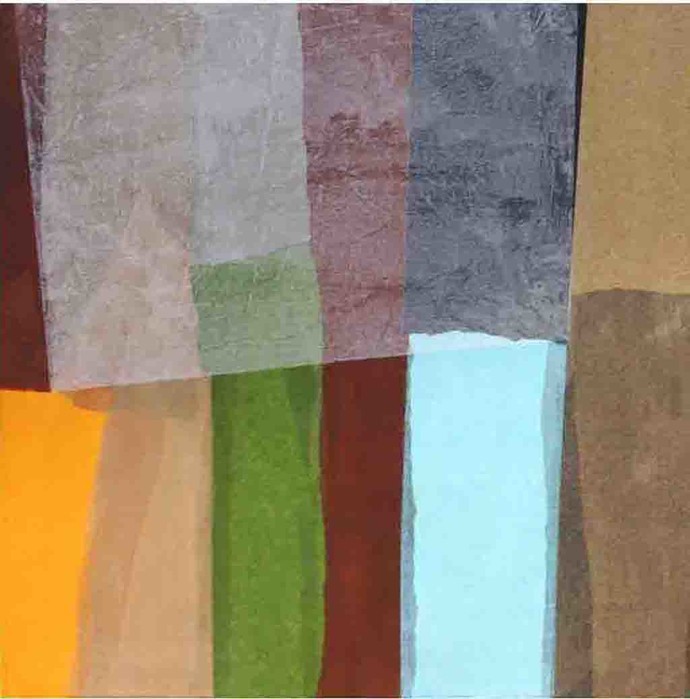 10. S. Harshavardhana
After giving up a successful career as a bio-scientist in 1993, did S. Harshavardhana begin his fulltime commitment in visual arts. Son of the late modern master J. Swaminathan, Harsha Vardhana's inclination towards an artistic practice seemed almost natural. This self-taught artist displays his vast creative vocabulary in his heavily textured but plainly coloured canvases. Deeply influenced by tribal art and symbols, such as inverter triangles, connecting lines and other geometrical forms, Harshavardhana creates abstract geometrical forms that can be decoded or read with the help of colour and patterns. Some of his famous solo shows include, 'Enduring Intimations from Far and Near' at Gallery Espace, New Delhi, in 2007-08; 'Seeking the Reality' at Indigo Blue Art, Singapore, in 2007; 'Lines Maketh the Web' at Aicon Gallery, New York, in 2007; and 'Acute, Obtuse and Sometimes Right' at Aicon Gallery, Palo Alto, in 2006 among others. The artist lives and works in New Delhi.