By Raoul Lornie
Forget Ayurveda or Yoga, did you know about the healing power of Art? Most of us are completely unaware that creating or even looking at art can be very beneficial to the mind and body. Art is very versatile and can influence us in different ways. The key point here being 'influence'. Creating art for your own satisfaction has its benefits to both your mind and body. We mostly spend our days rushing around.
Whether it's your career, looking after kids, school or ticking off daily errands, our days are spent focusing on our everyday obligations. We never really get the chance to relax and unwind. At this point Art can play a very important role in bringing peace to a tired mind. When you're overwhelmed with the stress of a challenging lifestyle, embracing your creativity can actually diminish anxieties and stresses to clear your mind making you feel better. Here's a larger take on how Art can influence us therapeutically.
Self-expression and letting out your emotions
Much like music and drama, Art in any form helps you to express a side of yourself you might find hard to do otherwise. Artists infuse emotion into their work and when you bring this work home, you are relating to the same emotion and in turn acknowledging your inner feelings. Politics, philosophy or romance, let the brush and ink or a contemporary artwork speak for things you may not have words for.
You embrace a side of yourself you might be ignoring
Not all of us work a creative job but this doesn't mean you can't tap your inner artist. No matter what the job or how mundane it maybe, you can always get a little inky and doodle away! You may even surprise yourself with the things you create and through that, feel a sense of achievement which builds up your positivity in mind.
Helps you to slow down
Looking at creativity around you actually helps to physically and mentally slow down. Rushing around everyday doesn't do our bodies internally any good and so making time to do or look at something artistic which is guaranteed to be healthy to both your body and mind.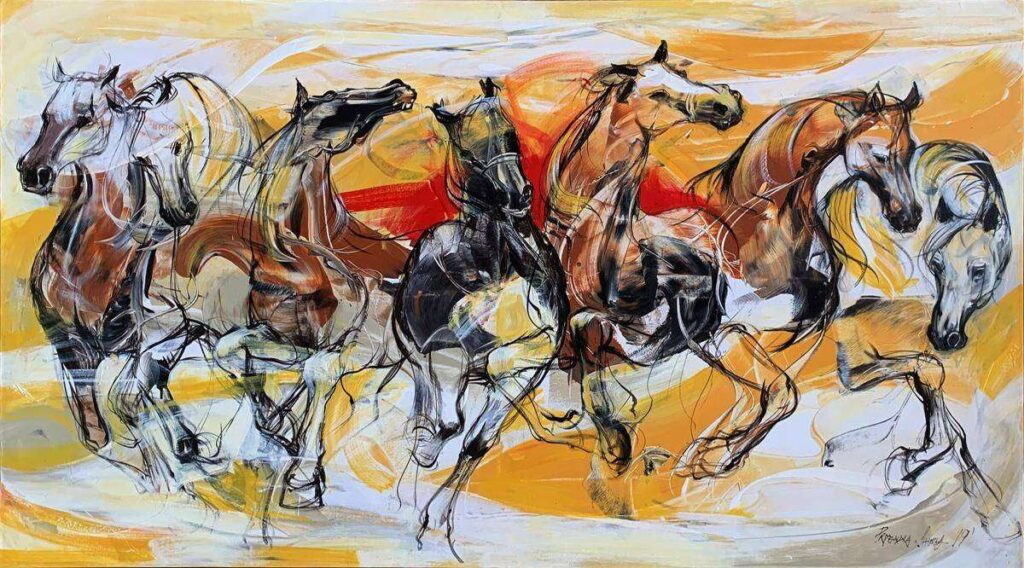 Art Develops the Whole Brain
Art strengthens focus and increases attention, improves hand-eye coordination, calls for practice and strategic thinking, and encompasses interacting with the material world through different tools and art mediums. In short it does wonders for your mental development.
Famous artists of India and abroad will agree that Art is a great healer in more ways than just one. Art has the ability captivate, heal and inspire. It's easy to take art for granted, but paintings, sculptures, photographs and more can all lead to healthier states, with better brain activity and less stress. While we've known art is a powerful tool to record history and ignite inspiration, now we are discovering and accepting Art to also play the part of a healer of sorts.
So take a breath and bring a bit of doodling, colouring or painting as part of your weekly agenda.